Information released on Pokémon GO worldwide events
Players in Chicago will try to unlock perks for players around the world! A Worldwide Challenge will occur on the 22nd of July.
The official Pokémon GO website has released more information about the events later this July celebrating the one year anniversary of the game.
The Pokémon GO Fest Chicago event will involve three Challenge Windows where Trainers will work together to unlock global rewards. Perks for players everywhere will be unlocked based on how well they catch certain types of Pokémon. For example, catching a lot of Electric-types can reduce Egg-hatch distance required, and Grass-types increases the Stardust bonuses.
Good luck to the trainers attending the event! The length of these perks will depend on how many Pokémon are caught by players around the world (ergo, a Worldwide Challenge), and a mystery challenge is set to be unveiled too.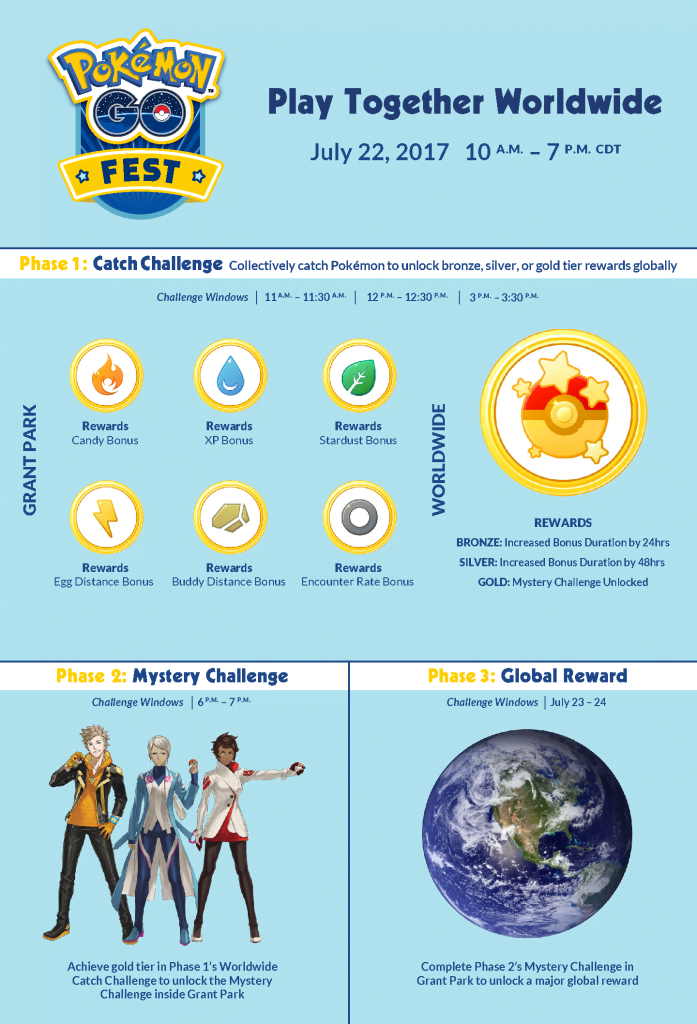 Safari Zone events have been announced for select Unibail-Rodamco shopping centres within Europe as well. Rare Pokémon can be caught, including 'some Pokémon never before encountered in Europe'! Will this include region-specific Pokémon (e.g. Tauros, Heracross), or unreleased Pokémon (e.g. Delibird)? Special Raid Bosses will feature as well. Dates and locations are below.
August 5, 2017
Fisketorvet—Copenhagen, Denmark
Centrum Cerny Most—Prague, Czech Republic
August 12, 2017
Mall of Scandinavia—Stockholm, Sweden
Stadshart Amstelveen—Amstelveen, The Netherlands
September 16, 2017
CentrO—Oberhausen, Germany
Les Quatre Temps—Paris, France
La Maquinista—Barcelona, Spain
Lastly, an outbreak of Pikachu will occur in Yokohama, Japan from August 9-15. A "special Pokémon GO experience" will take place. More information is coming soon on these events!
Are you planning to attend one of these events?