4th Global Mission Target Reached!
Thus far we've gone beyond five times the initial target!
Well THAT was quick.
Less than 40 hours into the "Get BP at the Battle Tree!" Global Mission in Sun and Moon, we have not only passed the 250,000 goal, nor the 500,000 "bonus" goal, but we the trainers of the world have collected nearly a whopping 1.4 MILLION BP. Game Freak clearly learned from our failures in the first two missions.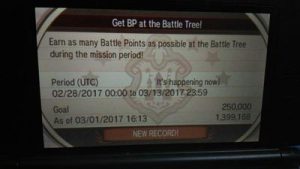 Regardless, this means that, when the mission officially finishes on March 13th, every Pokémon Global Link member can collect 4000 Festival Coins and a Heavy Ball, and every PGL member that got at least 3 BP during the mission gets 5 Rare Candies as well. If you forgot to sync your game to said PGL, you only will get 2000 FC.
So, if you want some cool prizes, make sure to sync your game to the PGL and get 3 BP from the Battle Tree before the 13th!