[Updated] Pokkén Tournament Reveals Empoleon as a New Character
A new fighter for Pokkén Tournament has been revealed, read about it here!
Following the announcement the other day that a new fighter would be revealed, Pokkén Tournament has delivered. Today they announced on a live NicoNico stream that Empoleon would be joining the cast of Pokémon.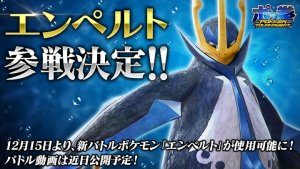 After being known about for a few days, a trailer has finally been released for Empoleon. You can view it below.
This character wasn't surprising to many due to the datamine, but should make a great addition to the game. Empoleon is currently set to release in arcades in Japan on December 10th, with no word on a Wii U release like the past DLC characters.
What do you think of this reveal? Will you be trying out Empoleon when it comes to consoles, and who do you think is next?
Comment below!