Tinkaton voted most popular Pokémon native to Paldea
At least, according to players frequenting a Japanese game guide website. It beat out Clodsire by over a thousand votes!
GameWith, a Japanese game guide website, recently conducted a poll for players' most popular Pokémon populating Paldea (i.e. Pokémon found in Pokémon Scarlet and Violet). While this included Pokémon from previous generations, the results are in: Tinkaton is the most popular!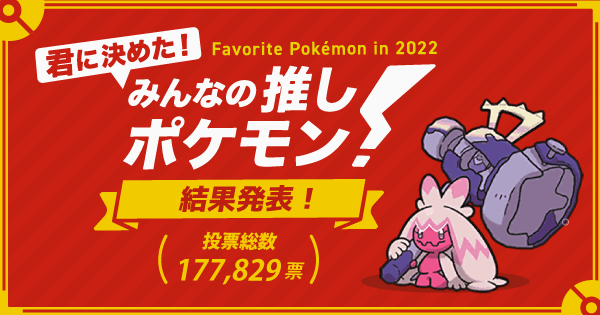 Tinkaton didn't just win either – it had more than 1,500 votes over second place. It seems many have taken to the Fairy-type with an oversized mallet that hunts down Corviknight.
ベスト30のポケモンは画像の通りです🙌

あなたの推しポケモンはランクインしていましたか?

記事ではベスト50のポケモンまで紹介しています👀

👇ランキングの詳細はこちら👇https://t.co/rdmsxXjpPd#ポケモンSV pic.twitter.com/n7iKxbZcfA

— ポケモンSV攻略@ゲームウィズ (@pokemon_GW) December 26, 2022
Second place was Clodsire, the evolution for Paldean Wooper. One might want to speculate that Clodsire has a slight similarity to a previous design for Wooper found in prototypes for Pokémon Gold and Silver. Third place went to Meowscarada, Sprigatito's final evolution. It seems the Japanese fans visiting that website did not take to the Quaxly line at all!
We also recently learnt, courtesy of their Twitter, that Megumi Mizutani was the designer of Tinkaton (as well as the Maushold line). Megumi had also designed the protagonists for Pokémon Sword and Shield. Check out their fanart of Pokémon they had officially designed below!
『ポケットモンスター スカーレット・バイオレット』に登場するカヌチャン、ナカヌチャン、デカヌチャン、ワッカネズミ、イッカネズミを開発元のゲームフリークさんディレクションでデザインさせて頂きました❗️彼らとの出会いが素敵な冒険に繋がりますように🌟#ポケモンSVhttps://t.co/92ERGc8ub7 pic.twitter.com/A8ZUWCcAlE

— 水谷恵 (@megtany) December 26, 2022
What is your favourite Pokémon of Pokémon Scarlet and Violet?
Edited by Sheep.