Katy and Post Malone's PokéSong Dilemma
Preparations for the virtual Pokémon concert this anniversary haven't been going so smoothly. We spill the beans with this exclusive, totally real recount!
The two celebrities sat together at the table, opposite the lone representative from The Pokémon Company. It was smiling somewhat unnervingly at them as they read through the monster-ous lists, one for each. At least half of their own discographies were listed on the papers. Many of the song titles had been changed, although a few remained the same, perhaps fitting a Pokémon theme already.
"You want all of these songs to be performed? Isn't that a bit much?" Katy asked at length.
"Oh, heavens no, you can drop one or two if needed," the representative responded.
They exchanged glances. "What's a Sunflora?" Post Malone continued, deciding to try to clear up another issue. "See, the song is called Sunflower, but-"
The representative clicked their tongue. "Oh dear. I suspect you'll need to play some Pokémon Gold and SilverTM." It handed the singer another piece of paper alongside a Game Boy ColorTM. "We've changed the lyrics for you."
Post Malone examined them, and read out one section.
Ooh-ooh-ooh
Some things you just can't refuse
She wanna evolve me on the SS Anne cruise
And I'm not tryna lose

Then you're left as a Sunkern
Unless I Sun Stone ya
You're the Sunflora
I think your stats wouldn't be too much
Or you'll be left as a Sunkern
Unless I Sun Stone you
You're the Sunflora
You're the Sunflora
"What's a Sunkern?" Katy asked.
"Goodness," the rep said, handing another Game Boy ColorTM across the table. "I hope you know about Pokémon Sword and ShieldTM at least! That's key for your song SwSh SwSh."
"Uh huh…"
"And let's not forget performing Roar, with these lyrics too by the way." Another paper with lyrics scrawled upon it was handed down.
You held me down, but I got Up (grade)
Already brushing off the Sand Attack
You hear my Liquid Voice, you hear that Round
Like Thunder, gonna Earthquake the ground
You held me down, but I got Up (grade)
Get ready 'cause I've had enough
I Foresight it all, I Foresight it now

I got the eye of the Raikou, a fighter
Swords Dancing through the fire
'Cause I am a Champion, and you're gonna hear me Roar

(Have Post Malone run off stage and song suddenly end. Audience will laugh.)
"I don't get it," Post Malone said at length. "And isn't it a virtual concert? How will we know the audience is going to laugh?"
"They will laugh. It is very funny." The representative stared at them.
"Um…" Katy pointed at another song listed for her. "Well, why is this one crossed out? I Kissed a Mon?"
"Ah. We decided that it would be best not to perform that, lest we give the children… ideas. Instead, we want you to do the PokéRapTM."
Post Malone clicked his fingers. "Right, that one I know about."
"With all 896 Pokémon, of course," the representative added. "We thought it might be nice to go beyond Kanto for a bit here-"
"Hold up, eight hundred and what?"
"Kanto?" Katy echoed.
The representative sighed, and mused that maybe they should have gone with the original PokéRapTM singer.
---
Katy's Song List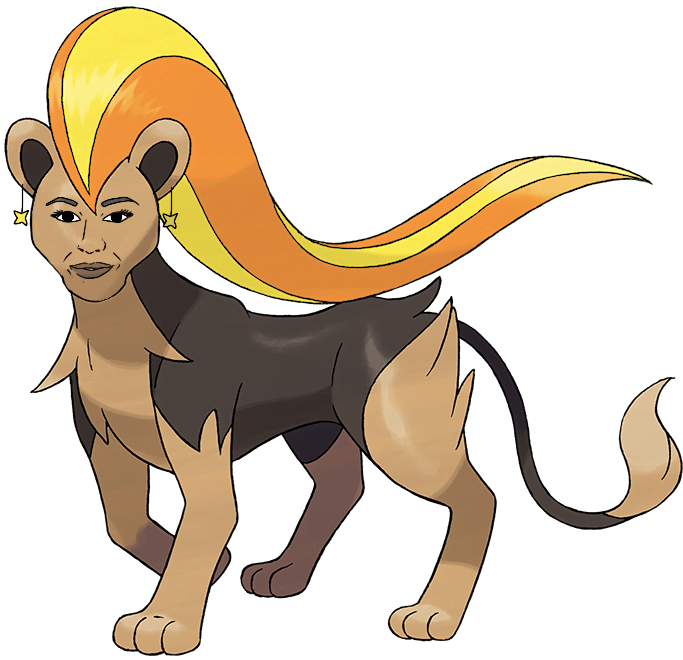 Trust in Me -> Trust in Mesprit
Last Call -> Last Resort
Growing Pains -> Growth Pains
My Own Monster -> My Own Pocket Monster
Spit -> Spit Up
Naturally -> Nature Power
When There's Nothing Left -> When There's No Moves Left ("I will Struggle more than I ever had PP")
Waking Up in Vegas -> Waking Up in Vermilion
Thinking of You -> Thinking of Pikachu
If You Can Afford Me -> If You Can Afford TM33
Lost ("Caught in the Eye of a Hurricane/Slowly spinning around in TR's hideout")
I'm Still Breathing -> I'm Still Frost Breathing
Teenage Dream -> Teenage Dream Eater
California Gurls -> Castelia Gurls
Firework (Play the fireworks scene from Pokémon X and YTM during this song)
Circle the Drain -> Circle Throw the Storm Drain
The One That Got Away -> The Legendary That Got Away
E.T. -> P.C.
Diamonds
Pearl
Roar (Have Post Malone run off-stage when she sings 'hear me Roar', haha)
Legendary Lovers (feat. Eusine)
Walking on Air -> Walking on Air Stream
Unconditionally -> Contest Condition
Dark Horse -> Dark Pulse
Ghost
Love Me -> Luvdisc Me
By the Grace of God -> By the Grace of Arceus
Spiritual -> Spiritomb
Choose Your Battles
Roulette -> Rowlette
Swish Swish (feat. Nicki Minaj) -> SwSh SwSh (feat. Masuda)
Power -> Power Anklet
Miss You More -> Miss Your Move
Teary Eyes -> Baby-Doll Eyes
Harleys in Hawaii -> Haxorus in Humilau
What Makes a Woman -> What Makes a Woobat
Post Malone's Song List
Big Lie -> Big Liepard
No Option -> No Option To Save
White Iverson -> White Version
Go Flex -> Go Ilex
Congratulations (feat. Quavo) -> Congratulations (You Are the Champion!) [feat. Prof. Oak]
Feeling Whitney
Spoil My Night -> Spoil My Nightmare
Zack & Codeine -> Zach & Concordia
Rockstar -> Brockstar
Psycho -> Psychic or Psycho Boost
Ball for Me -> PokéBall for Me
A Thousand Bad Times -> A Thousand Bad Arrows
On the Road -> On the Cycling Road
Staring at the Sun -> Staring at the Sunkern
Sunflower -> Sunflora
---
Thanks to Rabinov for many of the song titles. Rivvon helped too!
Kitty is responsible for the cursed images.
Edited by Kitty, Rabinov, and Sheep.