Voting for Pokémon of the Year has begun
It appears to be a public vote set to determine everyone's favourite Pokémon, but who will win?
Update: We've updated with details on how to vote for your favourite Pokémon as part of the Pokémon of the Year event!
To vote, follow this link, or simply Google "Pokémon Vote". (You do not need the accented e.) Each day you can submit one vote for each region's set of Pokémon (so 8 votes in total a day), with Meltan and Melmetal lumped in with "Galar, etc.". Alternate forms of Pokémon count as the same species of Pokémon – so a vote for Vulpix includes both its Kanto and Alolan forms, and can only be voted for in the Kanto section.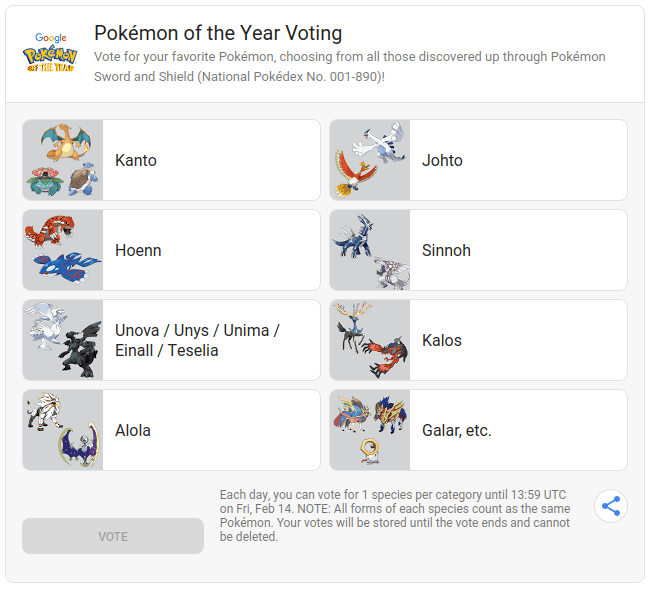 Voting continues until the 14th of February, 13:59 UTC.
---
Original article: It appears that another event will be run to mark Pokémon Day this year, alongside a new Pokémon set to be revealed. Starting February 5th, and finishing February 14th, a vote will be opened to determine the "Pokémon of the Year".
From Feb. 5 to 14, voting will be open for the "Pokémon of the Year", though the site's not up yet https://t.co/WDpYtYANV9 https://t.co/uqHNtQNbii pic.twitter.com/Bbz5Hpc6av

— abcboy (@abcboy101) January 31, 2020
While the site to determine the votes, as well as the accompanying video, have not been made public yet, we'll update the page when the links are made public. What do you think the event will entail, and who do you think will be Pokémon of the Year?
Thanks to PB for the tip!
Edited by bobandbill.