Only Ho-Oh distribution details in CoroCoro this month
No Ultra Sun and Ultra Moon news this month.
The monthly release of Japanese magazine CoroCoro was leaked overnight. While some fans were hoping for Pokémon Ultra Sun and Ultra Moon information, the only news found so far has been about a promised serial code distribution for the Mythical Pokémon Ho-Oh.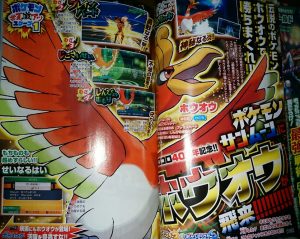 Likely to commemorate Japan's theatrical release of Pokémon: I Choose You, the Ho-Oh comes at Level 100 with the ability Pressure and the moves of Sacred Fire, Brave Bird, Recover and Safeguard. It also comes with the useful revival item Sacred Ash. However, even with the serial code you'll need a Japanese copy of Pokémon Sun and Moon to receive the legendary Pokémon.
There has been no word yet on whether Pokémon Ultra Sun and Ultra Moon news will be given out in next month's issue.
Edited by Jake.