[UPDATED] New egg changes, Ash Hat Pichu in Pokémon GO
Pokémon GO's egg chart has changed once again! Pichu hatched from eggs obtained during the event will also have Ash's hat.
Pokémon GO makes egg hatching a great opportunity to get both rare Pokémon and Pokémon with high Individual Values (IVs). A few months back, egg spawns changed and switched around what you could get. Some of the rarer Pokémon were made available in lower distance eggs (e.g. 5 km eggs instead of 10 km). These new changes were very welcome additions. It would appear that with the anniversary event starting today, egg hatches have been swapped around again! More reports are coming in, so keep checking back!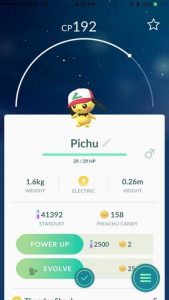 The changes are as follows (unconfirmed claims in italics):
Pineco and Gligar, originally 10 km egg hatches, are now found in 5 km eggs. Mantine is also rumoured to be a 5 km egg hatch.
Totodile, Chikorita and Cyndaquil, previously only hatchable during the Easter Egg event and shortly afterwards, are hatchable again from 5 km Eggs. 
Pichu from 2 km eggs obtained during this event will have Ash's hat.
Natu, Marill, Hoppip, Wooper, Teddiursa, Swinub, Snubbull and Houndour are now hatchable from 5 km eggs. has been mentioned in unconfirmed reports.
Spinarak is hatchable from 2 km eggs.
Chinchou hatches from 10 km eggs. Porygon has moved from 5 km to 10 km eggs.
Below is the updated chart with bolded names being the changed hatches.
2 km
5 km
10 km

Bulbasaur
Charmander
Squirtle
Ekans
Nidoran
Nidoran
Oddish
Diglett
Abra
Machop
Bellsprout
Geodude
Slowpoke
Gastly
Krabby
Exeggute
Goldeen
Magikarp
Spinarak
Pichu*
Cleffa*
Igglybuff*
Togepi*
Aipom
Misdreavus
Slugma
Remoraid

Vulpix
Growlithe
Poliwag
Ponyta
Magnemite
Seel
Grimer
Shellder
Onix
Drowzee
Voltorb
Cubone
Lickitung
Koffing
Rhyhorn
Tangela
Staryu
Scyther
Pinsir
Eevee
Omanyte
Kabuto
Chikorita
Totodile
Cyndaquil
Natu
Marill
Hoppip
Wooper
Yanma
Wobbuffet
Girafarig
Pineco
Dunsparce
Gligar
Qwilfish
Snubbull
Shuckle
Sneasel
Teddiursa
Swinub
Houndour
Phanpy
Stantler
Tyrogue
Smoochum*
Elekid*
Magby*

Chansey
Lapras
Aerodactyl
Snorlax
Porygon
Dratini
Chinchou
Mareep
Sudowoodo
Mantine
Skarmory
Miltank
Larvitar
An * indicates that the Pokémon can only be obtained by hatching an egg.
Are you still an avid player of Pokémon GO? If so, what do you think of these egg changes?
Edited by bobandbill. From TheSilphRoad's Reddit.