Pokémon GO Turns One Year Old!
The award-winning augmented reality game celebrates its first anniversary on July 6. We celebrate by sharing some thoughts and memories GO has given us!
Pokémon fans from all over the world have been anticipating this since 2015 when it was first announced. Many players didn't know what to expect from the game, other than catching Pokémon in "real life". Nobody knew just how many memories the game would bring in, as well as forging many new friendships (and maybe a rivalry or two)! We briefly revisit the year Pokémon GO has enjoyed, while sharing memories of players within the PokéCommunity.
---
Pokémon GO was initially released for download on July 6th, 2016, in Australia and New Zealand. Soon after followed the United States, and then gradually most of the world. When starting the app for the first time, you had the choice of choosing a starter Pokémon to be your very first Pokémon in the app. Your choices would be the original first generation starters of Pokémon: Bulbasaur, Charmander, and Squirtle.
It became a world-changer for Pokémon Trainers all over. It struck a huge chord and enjoyed what was essentially a second fad phase not seen since the late 90s following the success of Pokémon Red and Blue, as well as the success of its anime. And how — Pokémon GO as of late June 2017 has earned $1.2 billion, with 752 million downloads made of the app. The hype was so intense, in fact, that traffic to the Pokémon GO Guide we'd put together at launch gave PokéCommunity and PokéCommunity Daily a beating!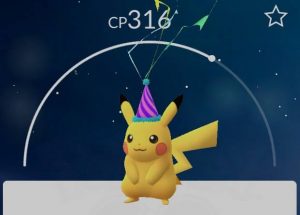 Since its initial release, Niantic has made many updates to GO in order to improve gameplay, some changes of which were in response to player feedback. The first release had a cool feature called Teams: once a player reaches level 5, they'd have the choice of joining one of three Teams: Mystic, Valor, and Instinct. Yet, we didn't know their leaders until late July, where an update showed us what your choice in leader looked like! Later on in September of last year saw the release of the Buddy Update, where the player selects a Pokémon to be their buddy throughout the game. The Pokémon GO Plus was released shortly afterwards. Following a few seasonal events and the addition of a few 'baby' Pokémon, the second generation of Pokémon was released, adding an additional 80+ Pokémon into the wild. Finally, and many Trainers were waiting for this: the big Gym overhaul, which introduced players to Raid Battles.
Pokémon GO also managed to satisfy their player base by announcing special events on occasion. This year has seen plenty of special events, such as the Easter Egg Hunt (Eggs hatch faster and rare Pokémon could be hatched), certain Pokémon events (Party Hat Pikachu for Pokémon Day, Santa Hat Pikachu for Christmas, and Shiny Magikarp for the special Water Festival event), and certain events where Players see an extra spawn of a certain type of Pokémon (Grass-types, Rock-types, etc).
---
Our amazing PokéCommunity members had some memories to share when they first played Pokémon GO! Forever recalls:
My first Pokémon was Bulbasaur, because I'm click happy lol then… Rattata spawned in my home. I didn't understand how the map worked so I thought walking in the house would take me places! The jetty would literally have hundreds and thousands of people there playing the game. Spawns like Growlithe and Ponyta were RARE and cool. Even our local lake was constantly lured up! I remember seeing kids go straight from school to play the game, adults playing… everyone played. Nobody could avoid trying it.

Then finally people started reaching level 5. Some of our local Valor people became regulars in gyms – it was usually Valor vs Mystic, and the gym next to the local school was always Instinct. We Mystic players tried but they mostly died out. We were left with Valor permanently claiming our area. That's ok though. My boyfriend got a good phone a month later – and he started playing. Eventually we would lead the cause in our suburb – reclaiming it for Mystic, but with only two active players… It was hard.
Another member, Bay Alexison, remembers the time she anticipated on downloading the game herself so she could play with her father.
I remember being pretty excited the first several weeks when Pokémon Go first launched. I would often play it downtown where I work before going home, and then whenever a few folks noticed me playing it they would give me a thumbs up haha.

Sometime later my dad wanted to try it and we went to one of the parks together where several folks were playing. We would often overhear someone mention their egg just hatched or what Pokémon they just caught. We also noticed how a couple of the gyms keep changing teams lol.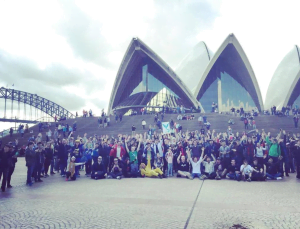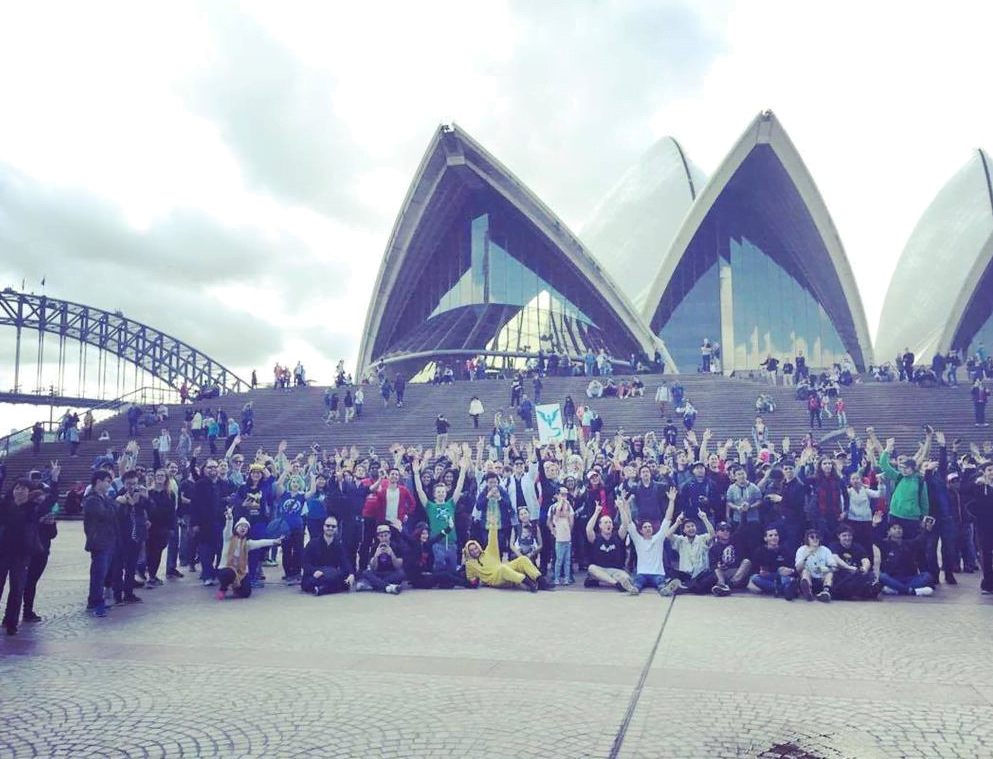 The first month was particularly crazy with popularity. bobandbill shares the following:
On one of the first weekends following the release, I decided to have a walk around Sydney and see what Pokémon I could catch. Cue seeing thousands of players around the Opera House, many supporting the teams with naught to them besides a colour and icon of a Legendary Pokémon. Long before any event had happened in the game, the Pokémon community had made one up themselves with a walk event around the nearby gardens and Circular Quay in Sydney.
Soapy adds her own memories of the launch period:
I remember getting out of the office and eating lunch at the park next to it, with my boyfriend and colleagues. We did that everyday, to hunt Pokémon. It was an awesome spot (still is). The park was full of life and everyone was playing Pokémon GO. People had Pokémon shirts and gear and accessories, I constantly felt like I was in a dream. Me and my boyfriend went to the park one weekend, and a Dragonair and Golem were there! We were so excited. I'm sad he doesn't play anymore, but yesterday I made a Slack channel at work to sync with other colleagues about nearby Raids. It's pretty amazing, my Project Manager comes to my desk to talk about Pokémon all the time. A lot of people in the company love Pokémon, we'll get that Charizard raid one day!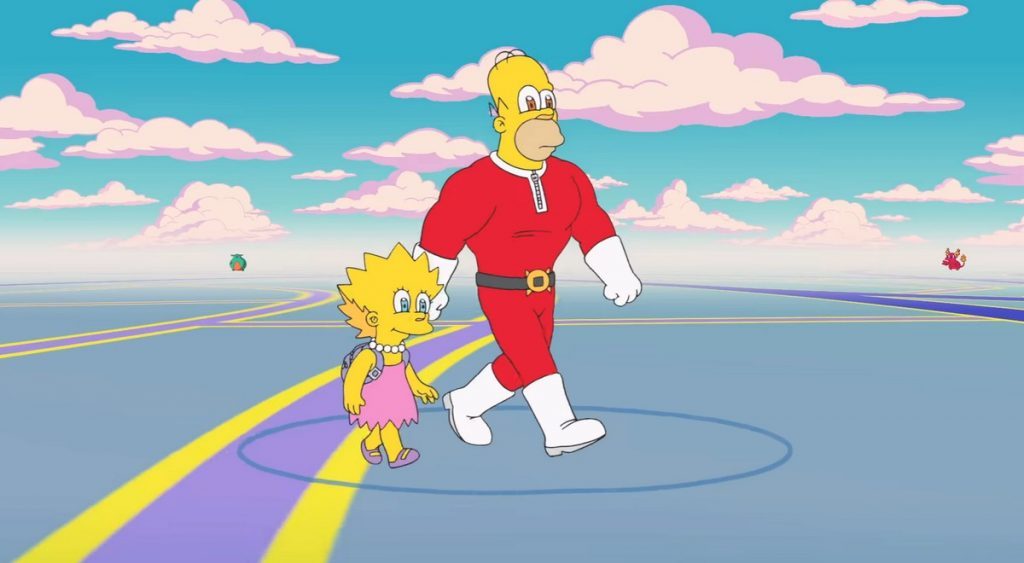 BlazingCobaltX highlights the sheer change in public perception on Pokémon:
There was something so surreal about being able to talk about Pokémon openly without being mocked or called a child. For me and all of my Pokémon-playing friends it was so weird to see our game featured everywhere, because we were used to being a niche in some way. In a way, it felt like a present to me, that I never stopped playing Pokémon and now got this thing that was basically my childhood dream.

My best memories are from going out at day (or even better, at night) and seeing my area crowded with masses looking for AR Pokémon. I would go to the park with my friends and we'd see hordes and hordes of people running around from one place to the other with their phones in their hands as if it's some kind of dowsing rod (technically it was). There was a certain kind of solidarity between the players of the game, knowing you're doing the exact same weird thing that literally has no value other than being hella fun. Even now I can spot the Pokémon GO players from afar, but that's not a hard thing to do; people have never looked as excited at their phone when using any other app.

Hour-long walks through the dark corners of the city, running around the park for a specific Pokémon, picking a team and loyally sticking to it even outside of the game; there was something so surreal about the time Pokémon GO just got released. It was as if every person allowed their inner child to come out for a bit.
She does, however, lament one aspect that stopped him playing, and an inevitable area one must consider if giving Pokémon GO a fair appraisal – its fight against the cheaters. Claims were made that maps were necessary following the removal of the tracking system for months on end, and efforts to ban players, including users with rooted devices, were ineffective at best and to a large extent negatively affected many legitimate players. While more recent changes have been more effective, cheaters remain at large. It is fair to say that in some aspects the game was rushed out, and some mismanagement and hasty decisions did cost the game some players.
Playing the game abruptly ended for me when Niantic banned rooted devices as to ban hackers, not aware that GPS spoofing can be done without root, and that a lot of root users don't even cheat. But it is what it is, and I haven't played the game since past October. If I could, I knew I'd be playing up until today. Among the people I know, I'd be an exception, because the hype has long died down. But I will cherish the Pokémon GO craze of past summer forever, and I am glad to have been part of it.
Lastly, we share the thoughts of Achromatic, who has been playing the games daily:
I am thrilled that GO has made it to one and is still going strong. Sure, the numbers have dropped but this happens with EVERY video game. It's still very impressive how many people are actively playing and enjoying this incredible game which to me is one of the best and most important mobile games of all time, if not the best. What it lacks in features and functionality, it makes up for in interactivity and overall charm and ability to keep you coming back for more. This game blew up, for fair reason.

I started day 1 in America (despite being a UK player) and have rarely put the game down since. Sure, I take my breaks when the game is going a bit slow and progress isn't really happening but I always come back for more. I can still remember how simple the game was on day 1, and how much server maintenance we had… haha. That was ridiculous, but at least we haven't seen that in a long while! Either way, it's amazing to me how much the game has progressed. This recent update is a perfect example of the game really coming into its own and it's just fantastic.

The game has personally helped me get out more and really explore and enjoy the world around me, and for that I am so thankful. That isn't something any other video game could have given me, truly. I've also been meeting a lot of people recently who play the games and the Raids and it's just so great. When the game was huge, no one actually came up to me but now Raids are out loads of people do! It's super great. I hope to meet even more players as time goes by.
A common joke or response is to ask 'who still plays Pokémon GO'? As stated by Achromatic, while numbers dropped, they were never sustainable in the first place. Nor are numbers bad right now! This June saw about 60 million monthly players, with 20% playing daily. Pokémon GO is most certainly far from dead.
---
As we celebrate Pokémon GO turning one this year, what's in store for the future?
We just got word that we can expect a special Ash Hat Pikachu during the next week. A special Anniversary box will also be added to the in-game store.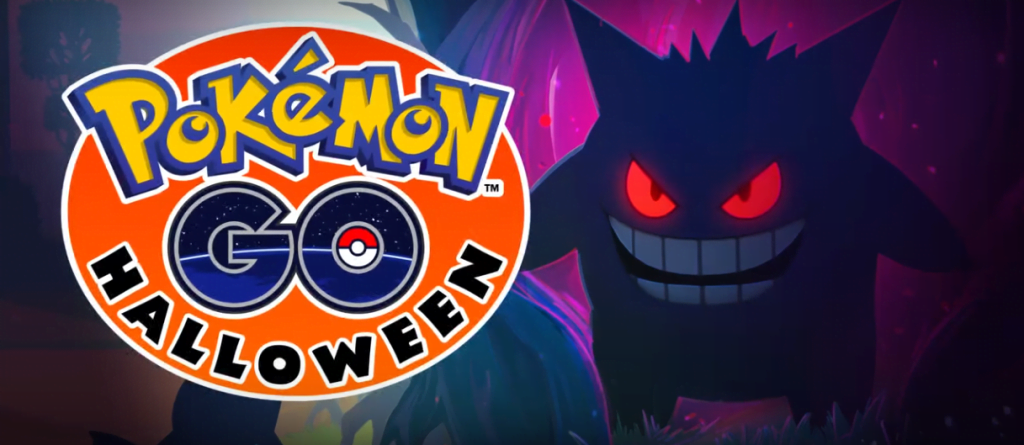 The biggest thing arguably is Pokémon GO Fest, which is happening in Chicago on July 22. Tickets to the event are sold out, but Niantic has announced that every player can participate in the festivities, regardless of whether they have tickets to the event. Many players are speculating that there may be legendary Pokémon events, as hinted by one of Niantic's developers during their Webby appearance.
It is unlikely to be the only area-specific event, either. Ingress, another game made by Niantic, frequently hosts location-specific events. Recently another has been announced on Facebook in Chester, the UK. Here's hoping many more are on the way.
Raid battles may also see new additions, following the level limit dropping to 5 this past week. There's so many other things for Pokémon GO to add too, as both the game and the player base continues to grow by the days.
Happy birthday, Pokémon GO! Here's to another successful year with more features for players to enjoy.
Edited by bobandbill, Volpe Artica and Zach.