#FanGameFriday – Pokémon Cosmos
FanGameFridays is back, this time spanning multiple galaxies as we explore Pokémon Cosmos.
In FanGameFridays, we'll feature a Pokémon fan game created by our members on PokéCommunity! Today we focus on Pokémon Cosmos, an upcoming ROM Hack.
Pokémon Cosmos is a ROM Hack created by Wobb and set in the Starzone Galaxy, prominently featuring the Ultra Beasts, who were introduced to us in the seventh generation of games. Cosmos isn't your traditional Pokémon experience, this game features you playing as a Clefairy who is trying to help the rogue-turned-friend Cosmos get back home. This game spans across several galaxies which you are chased through by the aforementioned Ultra Beasts!
Featuring a varied tileset that accentuates the varied worlds that you can encounter, Cosmos has done a grand job of piecing together its own little world.  Wobb has yet to release any details on how the battle system will work, with the only progress seen so far being in the overworld. Perhaps we will see an entirely new battle system for this vastly unique style of Pokémon game?
Cosmos is set to continue its unique roots by implementing new music, namely including tracks from Super Mario Galaxy. So far Wobb has done a superb job in creating this new world with fresh ideas, and hopefully, more progress can be seen soon!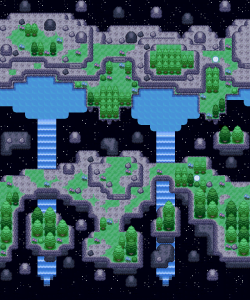 Edited by bobandbill, LinearAxel, Meganium, and Rabinov.