April Fool's Slowpoke now available
This isn't a hoax – there's a silly April Fool's Slowpoke available in Pokémon Sun and Moon!
Nintendo have just revealed via their Twitter that to celebrate the first of April with the rest of the world, they will be releasing a special Slowpoke via Mystery Gift on Pokémon Sun and Pokémon Moon.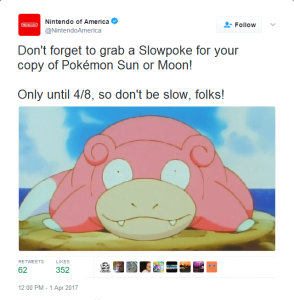 The Dopey Pokémon will be available from 12:00pm Pacific Standard Time on April 1st until the same time on the 8th through WiFi distribution. Reportedly, it is obtained at level 30 with perfects IVs and the moves Trick, Trick Room, Power Trick and Confuse Ray.
Interestingly, the Original Trainer is said to be listed as HppyNewYr. We guess Nintendo does have a sense of humour!
Edited by bobandbill and 5qwerty.