Changes to Pokémon GO Remote Raids prompting boycott plans
"We believe this change is necessary for the long-term health of the game, and we do not make it lightly."
Niantic today announced changes to Remote Raids on their website, and they have not proved to be popular for Pokémon GO players. These changes are set to go live on April 6, 2023, at 11:00 a.m. PDT (GMT -7). In summary:
Remote Raid Pass prices increased to be one pass for 195 coins, and 3 passes for 525 coins. These used to be 100 and 250 (later to the currently 300) respectively.
Meanwhile, a new Premium Raid Pass pack will be introduced: 3 Premium Passes (for in-person Raids only) for 250 coins.
Upper-limit of 5 Remote Raids per day (which may increase during special events).
Remote Raid Passes may now drop from Research Breakthroughs, but still subject to the limit of 3 passes that you can hold. If you have 3 Remote Raid Passes, you will instead get a Premium Raid Pass.
Boosted Candy XL drop rate for in-person Raids.
We plan to keep Remote Raid Passes as part of Pokémon GO. However, we believe this change is necessary for the long-term health of the game, and we do not make it lightly. We feel this is a necessary step toward our goal of preserving and improving the unique experience of playing Pokémon GO—a game we hope you continue to enjoy long into the future.
An article by Eurogamer also appeared, featuring an interview with developer and VP Ed Wu. While the interviewer expressed some doubt, Ed Wu repeated the line about Remote Raids supposedly hurting the overall value of the game.
"Every game is about both the goal as well as the journey to that goal," Wu says. "The value folks may be thinking about and geared towards is that end goal. [But] actually the value they're deriving from a game comes from the entirety of the journey to that goal, and Remote Raid passes are a shortcut through that entire journey.

"Many games have shortcuts, right?" Wu says, explaining that any game which isn't just geared to taking your money has to balance that. "When games offer shortcuts, they also ensure these don't distort the overall value of the game by doing things like imposing limitations on the number of times they can be used. So in many ways, this is actually very analogous to a wide variety of games that have similar loops, and where ultimately, a game is about both the journey as well as the destination."
However, the announcement has not been well received – just take a look at responses on Twitter. Many cite the price hike, and lack of accessability to many players (be they away from urban centres or cities, or unable to go outside as regularly as Niantic encourages). Others pointed out that even players in cities often benefit from remote players, and may struggle to beat some Raids with diminished online support. While TheSilphRoad's subreddit staff team limited discussion to two threads, they collectively received around 5,000 comments within a day, with the majority negative. The PokémonGo subreddit meanwhile is filled with threads complaining. Boycotts have already sprung up.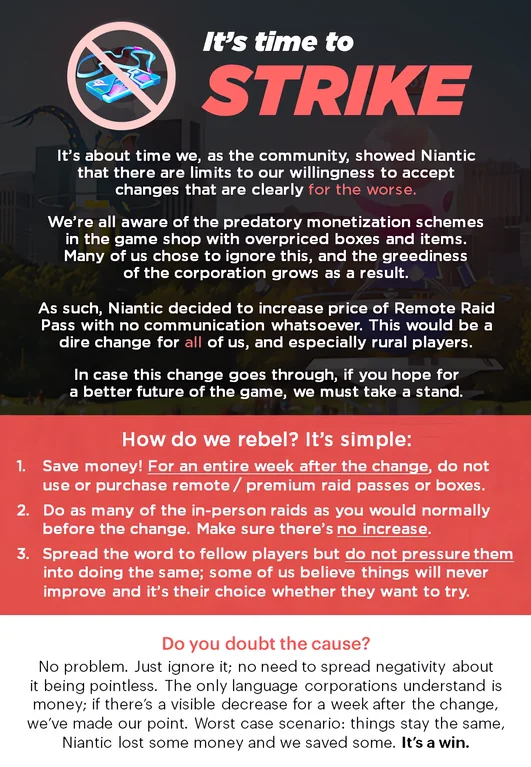 What is your take on the changes to Remote Raids?
Edited by Aldo and Rivvon.