Pokémon Presents announces new Netflix series, Pokémon Sleep, Gen 9 DLC
Pokémon Sleep finally shows up, while Scarlet and Violet DLC Part 1 will begin in Autumn this year.
The 2023 edition of Pokémon Presents has just aired. The main headlines: a new claymotion series on Netflix, Pokémon Sleep, the Pokémon Plus+ device, special Raid Events for "Walking Wake" and "Iron Leaves", and DLC for Pokémon Scarlet and Violet – the Teal Mask and the Indigo Disk. The former releases in Autumn 2023.
New Netflix show
A new stop-motion show, Pokémon Conceirge, will debut on Netflix. It features Psyduck at a resort.
Pokémon Sleep, Plus +
Years after Pokémon Sleep was announced, it finally got announced! It has no release date however beyond 'Summer 2023'. It'll feature Pokémon that appear based on your sleep patterns.
Accompanying it is the Pokémon GO Plus +, which will also connect to Pokémon GO. This new device allows you to autocatch Pokémon with Great or Ultra Balls.
New Paradox Forms
Meet Walking Wake and Iron Leaves, New Paradox forms debuting right now in Pokémon Scarlet and Violet. They will last until March 12th, 23:59 pm UTC. They are based on Suicune and Virizion.
Walking Wake, a Water/Dragon type, gets Hydro Steam, a Water-move that gets boosted by 50% in harsh Sunlight.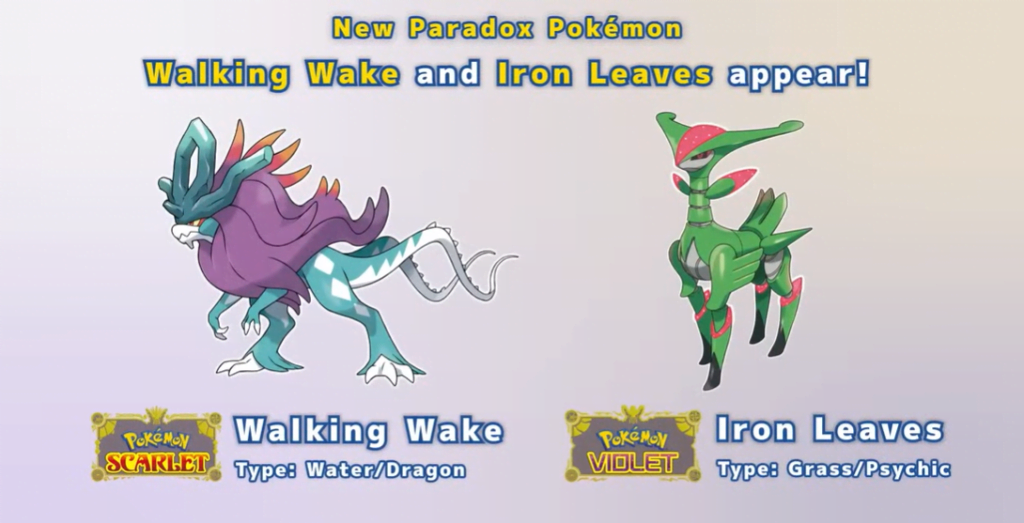 Generation 9 DLC
Pokémon Scarlet and Violet is getting DLC! And nobody is really surprised. Part 1, the Teal Mask, releases in Autumn 2023, while Part 2, the Indigo Disk, releases Winter 2024.
They introduce new Pokémon as well! We only have their Japanese names so far, but the Teal Mask introduces Monkidori, Okidogi, Fezandipiti and Ogerpon, while the Indigo DIsk introduces the Pokémon Terapagos.
This slideshow requires JavaScript.
What was the highlight for you from this year's Pokémon Presents?