Future Games Show 2022: a summary of the games announced
Many new games were presented during the Future Game Show 2022. Here it is a quick recap of the most interesting ones.
As every year, June is the month of video-games related events. One of the major events of this month was the Future Games Show, which presented many new games for all the platforms, including the hybrid console. Nintendo Switch is getting a good selection of new titles, so let's take a quick look at the most interesting games shown during the event.
Brewmaster: Beer Brewing Simulator is a game where you learn how to make beer, discovering and practicing new techniques. There's a story mode, but also a creative mode to try out new recipes. In Lost in Play, a dreamlike adventure awaits you, with fantastic creatures and magical locations. This game has more than 30 puzzles to be solved! The Last Faith is a completely different game: it is a 2D metroidvania. Deep exploration and intense fights seem to be the main focus of this title, that definitely has traits of a soulslike game. Taking place in 2036, Bright Memory: Infinite is a first person shooter game that aims to offer an extremely dynamic experience to the players. Tinykin has a strong connection to Pikmin. The main character Milo will need the help of very small creatures, called Tinykin, to explore the big world around him.
This slideshow requires JavaScript.
Some other games were announced for PC and consoles. While it is not sure if they will all be available in the future for the hybrid console, it is still worth mentioning them. American Arcadia seems to get much inspiration from the movie The Truman Show. The game offers a diverse gameplay and it is focused on exploration, including stealth movements and puzzles to solve. Serial Cleaners was already presented at the Gamescon 2021. The title takes place in the last years of the 90s and it narrates the adventures of a group of people who have the job to eliminate evidences of crimes.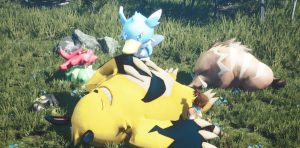 All the other titles shown during the event are coming to PC and to the other consoles. However, one of these games definitely deserves our attention. Palworld is an action RPG that takes a lot of inspiration from Pokémon. It tries to put together the classical exploration mechanics present throughout the Pokémon series and combine them with elements typically found in third person shooter games.
Which one of these new titles would you like to play?