First Pokémon Ultra Sun and Ultra Moon Global Mission ends up a failure
A sense of déjà vu is being felt as the first mission "Catch a lot of Pokémon!" has failed rather spectacularly.
History appears to have repeated itself, as the first global mission for Pokémon Ultra Sun and Ultra Moon, "Catch a lot of Pokemon!" has resulted in a failure.
From November 16th at 00:00 to November 27th at 23:59, players were given a lofty task of catching 10 million Pokémon before the mission duration ended, which was 10% lower than the mission of the same name in Pokémon Sun and Moon, which tasked players with catching 100 million Pokémon. Unfortunately, despite Pokémon Sun and Moon proving that 10 million Pokémon can be caught, the mission came out as a failure once more, with only 5.4 million Pokémon caught during the mission period.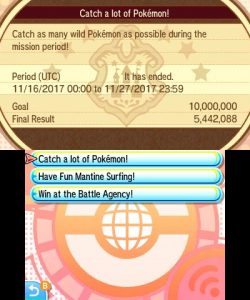 Here is how the Pokémon Global Link reacted to this failure:
"Unfortunately, the goal for the "Catch a lot of Pokémon!" global mission wasn't reached. A huge thanks to everyone who contributed their Pokémon tally in an effort to catch 10,000,000 Pokémon worldwide in Pokémon Ultra Sun and Pokémon Ultra Moon. But not all is lost—everyone who added their Pokémon to the count will receive a participation prize of 1,000 Festival Coins (PGL members will get 2,000 Festival Coins)!
Check with the global mission receptionist in Festival Plaza to receive your participation prize.
Good luck next time, Trainers!"
Edited by Zach.
Source: Kotaku