Generation 3 Pokémon data found in newest Pokémon GO APK
More data is needed for generation three Pokémon to make their debut in the game, but it's a huge step forward. A new type of Incubator and other updates have also been found in the code.
The newest Android Package Kit (APK) rolling out for Pokémon GO has just been datamined by The Silph Road. The highlight is that data for generation 3 Pokémon has been found! 135 new species have appeared in the code, each belonging to the third generation of Pokémon. 73 candy 'families' are included, ranging from Treecko to Deoxys.
Don't get too excited – any new attacks as well as sound files for each of these species (battle cries) are not yet available, so they won't appear in the next update. Nonetheless, it does mean we can expect them soon.
Also within the datamine includes bug fixes, a new 'Super' Incubator (which may hatch Eggs faster than the usual Incubators), a change to how Shiny Pokémon are displayed, updates to how the upcoming Exclusive Raids are handled, and code for Ditto.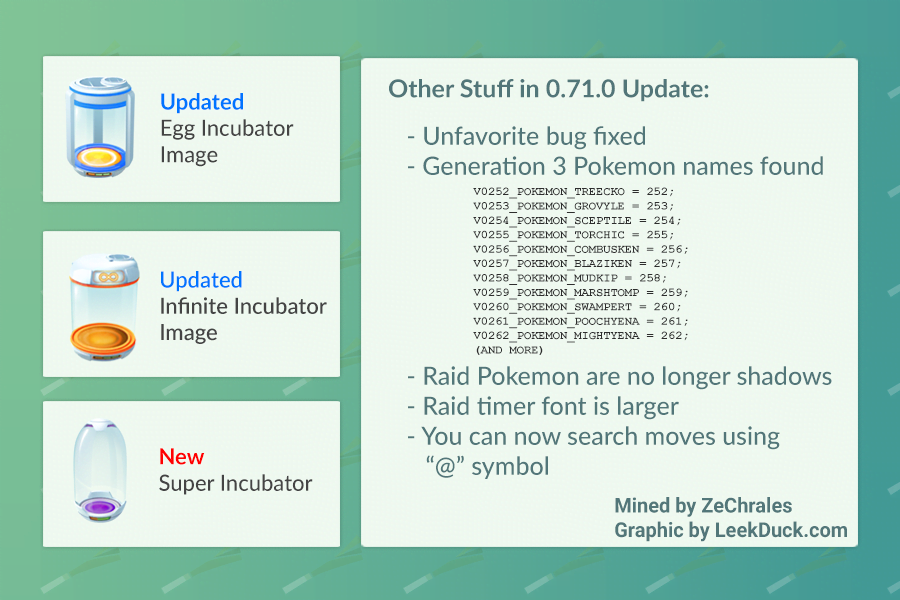 Are you looking forward to generation 3 Pokémon appearing in Pokémon GO?
Thanks to Forever for the tip!