Australian Pokémon Regionals announcement a disappointment
From seven Regional events for TCG and VGC last year to a mere two?
The official Pokémon website has recently announced new Trading Card game (TCG) and Video Game Championships (VGC) events for Australia. The first is in Sydney on the 10th of June, and the second in Perth on June the 24th.
Despite a new generation, last year's seven regional VGC events had been cut to just two, with one announced barely a week before it occurs. That's right; the Sydney event was announced only nine days before it starts. So far the only news to report this event is thePokémon website (the United States version). Emails are yet to be sent to subscribers to the Australian Pokémon Newsletter about the events. Meanwhile, there is no word yet on registration, player caps and divisions and prizes (such as competition points towards the Worlds VGC Championships).
This is frankly poor organisation. It can be assumed the attendance of the Sydney Play! Pokémon event will be diminished compared to last year as a result. While the choice of a long weekend is at least a plus, it also comes on a long weekend filled with trackwork for many train lines in the city. (This has often been the case the last few years of Sydney VGC.)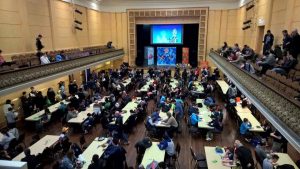 The decision to cut down to just two Regional events is also confusing. It is hard to pin the reason for this on poor participation; Brisbane's Regional event last year had 157 participants, Melbourne had over 300, Sydney had 242, and Perth and Adelaide over 100 each. (And yet the city with the most participants in 2016 missed out this year!)
Meanwhile, Pokémon Sun and Moon boast record numbers of sales, and Pokémon has been riding the wave of popularity following its release and last year's fad effect of Pokémon GO. To get less than a third of the regional events and skip out on centres like Brisbane and Melbourne (the latter which is near Nintendo Australia's headquarters) is a weird decision.
Let us hope 2018 brings about more events and better organisation for Australia's Pokémon community.
Edited by Dragon and Zach.