Pokémon Presents announces generation nine: Pokémon Scarlet and Violet
It's the third title with involvement from Game Freak staff in about a year timespan.
The Pokémon Presents this Pokémon Day, 2022, announced generation nine titles Pokémon Scarlet and Violet. These are the first generation nine Pokémon games, and are "open world games" releasing late 2022. The Japanese website has a suggestion that the Pokédex won't be a full one, like in generation eight, with an asterisk on Pokémon Home support stating what Pokémon can be sent is limited.
The English names for the new Starters are Sprigatito, Fuecoco and Quaxly. Quaxly is an "earnest and tidy" Pokémon, Fuecoco is laid-back, and Sprigatito is whimiscal and spoiled, according to the official website. They have the usual Starter Abilities of Overgrow, Blaze and Torrent.
This slideshow requires JavaScript.
The playable characters look to be school children, and their outfit colours will change based on the game version you pick.
This slideshow requires JavaScript.
A lot of screenshots were provided as well; a selection is below. Vendily also kindly provided a image of a map seen during part of the trailer – is it part of the Pokémon Scarlet and Violet region?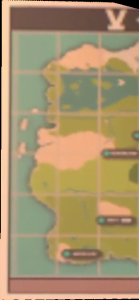 This slideshow requires JavaScript.
---
We also got various updates to mobile titles, and found out that Pokémon Legends: Arceus is getting a free software update today. Firstly, more mass outbreaks will happen!
A mysterious phenomenon is emerging across Hisui: mass outbreaks of Pokémon in multiple places, accompanied by rainstorms. Head out to investigate with Warden Mai of the Diamond Clan and her partner Munchlax. These special mass outbreaks offer a chance to catch Pokémon that are ordinarily difficult to find!​
A challenge battle mode was announced as well, where you try to win against as many Legendary Pokémon as possible.
When you go to sleep in your quarters, you can meet Arceus in your dreams and try your hand at a challenge of strength. Your opponents include lots of incredibly strong Pokémon. At times, you'll battle in inconceivable situations like facing multiple Legendary Pokémon at once. Hone your Pokémon battle skills and see how long of a win streak you can earn in this new challenge.​

The Eternal Battle Reverie will become available after completing all missions.​
You can also fight Wardens with new teams (and with more challenge such as 1-on-3 battles), and claim 30 Ultra Balls, 30 Gigaton Balls, and 30 Jet Balls with the code "ARCEUSADVENTURE" in Mystery Gifts menu before the end of March. This update is already available.
Check the full Pokémon Presents below.
We'll update with more information shortly.