Aaron takes on Showdown – Terrible Twos (Week 2)
Week Two of me taking on Pokémon Showdown with the weird and wonderful. This week will have me fighting with a suicidal Bulbsaur, an explosive Mew and much more!
Welcome to Week 2 of Aaron takes on Showdown, the freshly revived PokéCommunity Daily series where I, Aaron, will be taking on Smogon's toughest (aka the Low Ladder) along with 6 of my toughest sidekicks yet, chosen by the community!
This will work on the basis that for one week I will get sets thrown at me and create a team, the following week I will ladder with it and see how I do. Now for this week, I know for a fact that you've picked each one of these wonderful sets with the intention of me doing well…right?
WRONG YET AGAIN. I KNOW I HATE MYSELF BUT A SUICIDE LEAD BULBASAUR I FEEL IS MORE THAN ENOUGH PUNISHMENT!!!

Wow, another team comprised of some really good sets, I was so excited to use these on ladder! Let's not make you wait any longer, come see exactly what trash treasures I got to play with.
Crawdaunt

Held Item
Salac Berry
Ability
Adaptability
EVs
252 SpA / 4 SpD / 252 Spe
Nature
Modest (+SAtk, -Atk)
Moves

Hydro Pump
Dark Pulse
Sludge Wave
Nasty Plot
Cloyster

Held Item
Heavy-Duty Boots
Ability
Overcoat
EVs
252 Atk / 4 Def / 4 Spe
Nature
Jolly (+Spe, -SpA)
Moves

Icicle Spear
Explosion
Spikes
Teleport
cat like grandma (Sylveon)

Held Item
Leftovers
Ability
Pixilate
EVs
252 HP / 4 Atk / 252 SpD
Nature
Careful (+SpD, -Atk)
Moves

Curse
Wish
Quick Attack
Facade
Mew

Held Item
Normal Gem
Ability
Synchronise
EVs
252 HP / 252 Atk / 4 Spe
Nature
Adamant (+Atk, -SpA)
Moves

Soft-Boiled
Swords Dance
Explosion
Block
Bulbasaur

Held Item
Focus Sash
Ability
Chlorophyll
EVs
252 Atk / 4 Def / 252 Spe
Nature
Jolly (+Spe, -SpA)
Moves

Knock Off
Toxic
Sleep Powder
Leech Seed
Centiskorch

Held Item
Heavy-Duty Boots
Ability
Flash Fire
EVs
252 Atk / 4 Def / 252 Spe
Nature
Adamant (+Atk, -SpA)
Moves

Fire Lash
Leech Life
Power Whip
Coil
YAY I LOVE NOT HAVING HAZARD REMOVAL IT'S SO FUN AND GREAT. BOY I HOPE I NEVER HAVE TO SEE A GENGAR BECAUSE AT +2 GENGAR LITERALLY SWEEPS MY ENTIRE TEAM. Oh wait. I did.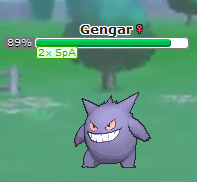 Otherwise…UGH. Firstly this isn't even a defensive Eviolite Bulbasaur set, it's an Attack-biased support set. An absolute disgrace. What was I supposed to do with this?!
Now surprisingly enough the answer was quite a lot! The Speed EVs in this set actually proved several times to be a huge boon to my team. It outsped a fair few common leads and threats, allowing me to setup on them accordingly. Watching Bulbasaur force out, and even kill, Pokémon it led against was awe-inspiring; we even managed to completely obliterate a Polteageist without taking any damage! Don't see Ferrothorn doing that, do you?
This slideshow requires JavaScript.
Bulba's Focus Sash also came in incredibly handy, allowing me to get a guaranteed Sleep Powder on threats such as Urshifu, so I could then follow up with a Leech Seed/Knock Off or alternatively switch into a better "check" for them (because this team checks about 1% of the OU tier).
As for other members of the team – Mew, Sylveon and Crawdaunt actually surprised me with what they could deal with. Sylveon proved to be a very interesting answer to some more physically offensive Dragon sets and also special walls; utilising its special bulk to maximum effect meant I could tank a lot of hits whilst setting up with Curse. Quick Attack was a fun revenge kill option and Facade was a great comeback to those who thought they'd countered the set with a Will-o-Wisp. Our only issue is that this is the first of two Pokémon in the team that have only one Type for their coverage, meaning anything that resisted it (and in Sylveon's case even if it was neutral) posed a huge threat to Sylveon.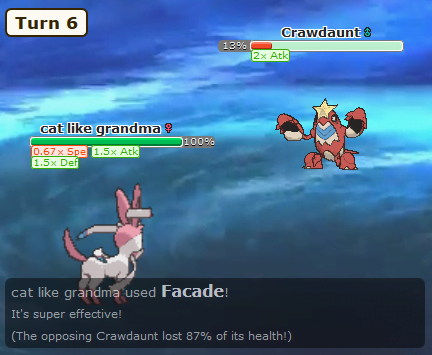 Once I got used to how its set was best used, Mew turned out to be a very nice nuke for the team. Switch in, set up Block, set up Swords Dance and KABOOM, we have two dead Pokémon. Obviously it was a sitting duck outside of this, especially if a Ghost-type Pokémon was on the team. Not having any Speed investment hurt this set a lot, as I couldn't get any quick Explosions in and normally got murdered by Knock Off before I could attack. It was however a very nice answer to Clefables that weren't running Teleport.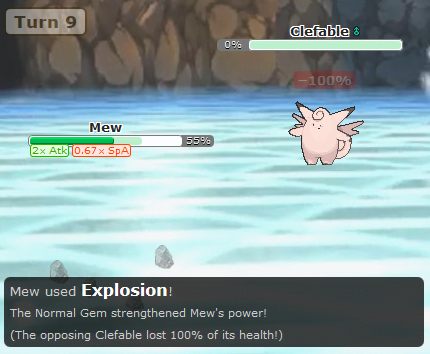 Boasting a somewhat decent base 90 Special Attack, this Crawdaunt set I knew I was going to have a lot of fun with. Plowing through the likes of Corviknight, Skarmory and Ferrothorn with this legendary lobster was a sight to behold. At +2 this was packing enough of a punch to significantly dent, if not kill, these Pokémon and much more. Unfortunately the gimmick of this set was extremely hard to abuse, especially as we were running a Modest nature. The lack of Speed as a result of this meant that even with the Salac Berry boost, there were times where I was just simply outsped and murdered. Overall though, an amazing set and something I'm tempted to build around soon. Protip: this set is so magical that enemy Dittos will feel compelled to switch in because they too want to achieve godliness.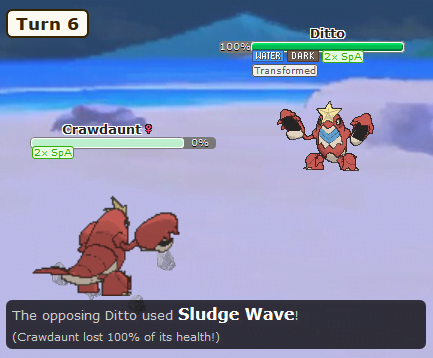 Not much to say about Cloyster, really. I managed to get some good Spikes down in battles but otherwise this was kind of deadweight. The Teleport gimmick was OK but because of the…'unique' situation of my team it was hard for it to switch out and capitalise. Otherwise, it did barely any damage with Icicle Spear (especially as I was forced to use Overcoat) and Explosion was kind of useless.
Centiskorch however, really turned up. Makes sense as this was the only actual good set I was given, however I never realised how great this Pokémon can be. Heavy-Duty Boots allow it to swap in and out as needed and was really nice considering I had no hazard removal. We had Coil to not only up offence but to also give us a bit of bulk AND some great coverage in Leech Life to regain health, Fire Lash for a good STAB with a 100% chance to lower Defence and Power Whip to say goodbye to pesky Water, Rock and Ground types that think they get an easy ride switching in. Another really fun set I want to try and implement into my teams moving forward!
With the above being said however, I will say that I did enjoy last week's team a lot more. This team overall was VERY hard to actually win battles with, even if I could deal with some key threats easily. Most Pokémon that got one stat boost off or had a high Speed stat stomped all over this team; not to mention that Gengar absolutely just murders it. It was still an interesting combination of Pokémon though!
This wraps up Week Two of the Aaron takes on Showdown article series! Make sure to join the thread to not only see my updates, but to submit the craziest abomination you can think of. Alternatively, be sure to check out our Discord Server's #competitive-battling channel to do the same!
View the majority of replays here: https://replay.pokemonshowdown.com/search/?user=pcrabinov
Rabi's Records:
This week's W/L Ratio: 4W/10L (28.5%)
Total W/L Ratio: 23W/29L (44.2%)
Team Records:
Crawdaunt – 11
Cloyster – 1
Sylveon – 7
Mew – 6
Bulbasaur – 1
Centiskorch – 11
Forfeits – 1
Edited by Aldo and bobandbill.