Message from the Pokémon Masters Team (Vol. 4)
More events and features are coming!
More news for Pokémon Masters has been released, and new upcoming events have been announced! There will be a new type of event called Legendary Event: Lurking Shadow, that will feature a new sync pair, Giovanni and Mewtwo. It will be a type of Story Event where you can play through the story, battle, gather materials, and even recruit Giovanni and Mewtwo for your team! You can also complete certain areas to collect vouchers for rewards and the opportunity to team with Giovanni and Mewtwo. This event will run from December 4th, to December 18th at the times show below: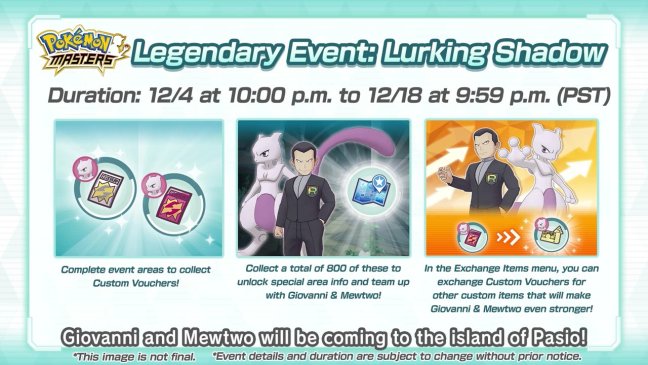 On November 28th, there will be a new Sync Pair Scout for Grimsley and Liepard.  There will also at that time be a Legendary Event Rally where players can earn up to 4500 Gems for logging in! In addition, December 11 to December 31st will feature seasonal Sync Pairs! There will be a Seasonal Exclusive Sync Pair Scout for Rosa and Siebold, who are both wearing Christmas styled sygna suits. Rosa will have a Delibird while Siebold partners up with an Octillery.
There is also going to be a new feature called the Sync Grid, allowing each player to customize enchantments for each of their sync pairs. The previously announced Battle Villa is now confirmed to be a single-player area, testing each players team. Finally, Lance and Cynthia with their respective Pokémon, Dragonite and Garchomp, are going to be able to be recruited in the game early next year, as well as another Legendary Pokémon making an appearance around that time too.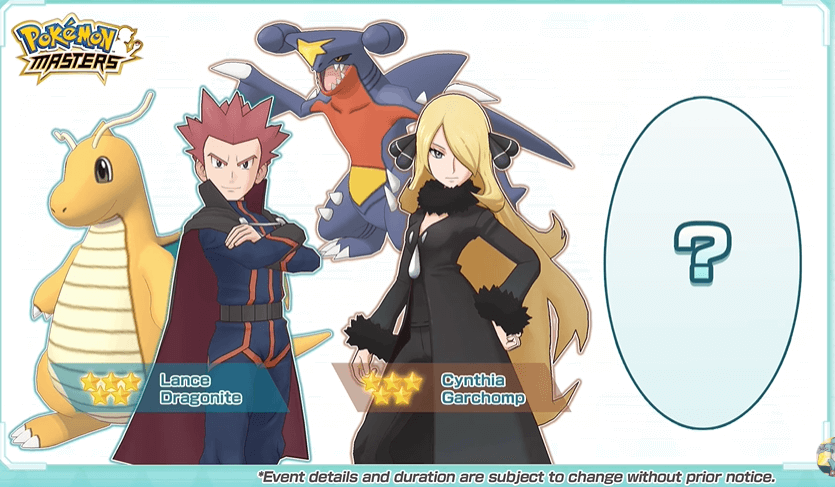 Are you excited for these upcoming events? Which are you most excited for?
Edited by Sheep.