How to Easily Farm Watts and quickly look for Gigantamax Raid Battles
A easy, handy guide for your Gigantamax hunting – you'll be able to get the Gigantamax boss you want!
Gigantamax Pokémon can be very hard to find in dens in the Wild Area through Raid Battles. However, players have discovered a good trick to finding the Gigantamax Pokémon they want, in a short amount of time! This guide will provide you with the method on how you can not only farm Watts, but to quickly find the Gigantamax Pokémon you want in as little time as possible.
Set-up
The only things you will need for this method are one Wishing Piece, which you can trade from a Watt trader for 3000 W, and you need to connect online in your game. Next, you'll need to turn off Autosave. You can do this by going to Options on the menu, and there you can scroll down to the Autosave option and toggle it off. It will also help if you set your text speed option to slow. Confirm, and after that, it's time to begin!
Soft-resetting for purple beams
First of all, you will need to find the den that has the Gigantamax Pokémon you're looking for. Here is a useful guide with a map for reference. Make sure the den empty, and save your game right in front of the den. You can then put your Wishing Piece inside. It will ask you if you want to save your game. Select yes, but before it saves your game, you will see the colour of light that shoots up from the den. A fluctuating red beam of light have more common Pokémon inside, while a bright purple light has rarer Pokémon.
This part is important: if you see the beam is red, hit the Home button and close the game right before the game saves. The game will save when the text box is complete, so you must hit the Home button on your switch controller before that happens. Now open up your game again, and you will still have your Wishing Piece. You can then try again, putting the Wishing Piece inside. Continue this method until you see a bright purple light – if you do see it, let the game save, and now you can access the den.
You will now see a window like this: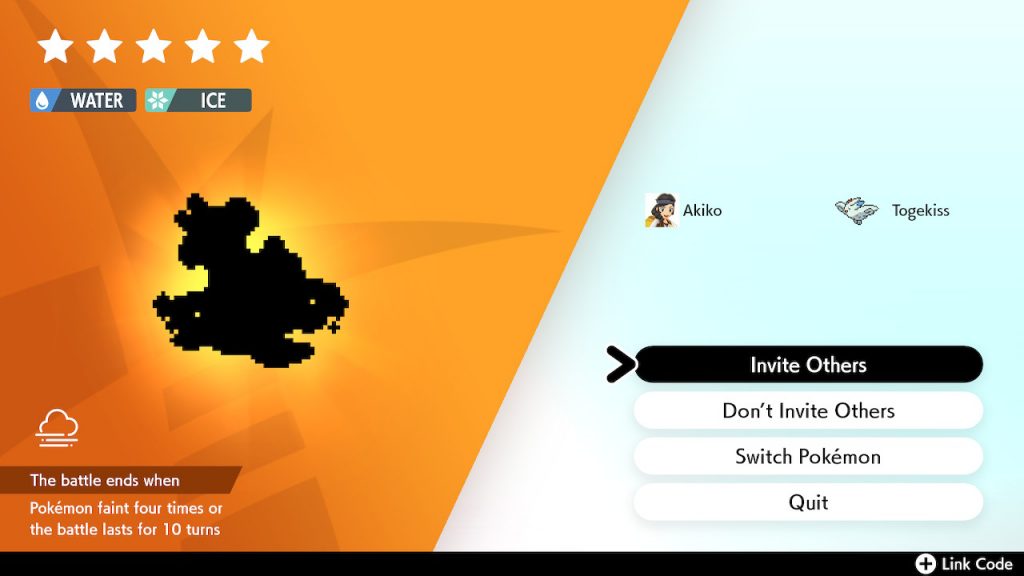 Reset for the Pokémon
If it does not show the Pokémon you want, there is a way to reset this! Choose 'Invite Others'. Once you do, press the Home button on your controller again to bring you back to the Home screen. You don't have to reset your game this time. From here, go to your System Settings, go to the System tab, and select 'Date and Time'. Select the 'Synchronize Clock via Internet' option to off, and now you can change your date and time. Choose a date that's at least one day ahead of your current date, and go back to the game. Now select 'Quit', and you'll be brought back in front of the den with the shining purple light again.
From here, if you select the den again, you will gain 2000 W, and the Raid Battle will most likely be a different Pokémon. That's because when you set the date forward on your switch console, the game will think you've sent at least one day searching on that Raid Battle, and so, it will provide you with another Raid Battle. You'll continue to have the purple beam of light, so you can continue this method to keep drawing in the rare Pokémon that can only be spawned while the purple beam of light is deployed. Each time you change the date forward while searching online to invite others in the Raid Battle will also get you 2000 W, so this is a nice trick to farm up Watts as well. Naturally, you can keep doing this to find whatever Pokémon you're looking for too.
Once you do find the Pokémon you're looking for, remember to save because auto save is turned off, and now you can go in to do your Raid Battle. Another good thing from this is because since auto-save is off, if you fail to capture the Gigantamax Pokémon you've battled with, you can always simply reset your game and try again, as long as you don't save after the battle.
Give this a try! What kinds of Pokémon will you try to find using this method? If you want a general guide to Raid Battles, check out our other guide. Join our Discord to organise a Raid once you find the target you want!
Edited by bobandbill, Sheep, and Zach.