Watch the Glimwood Tangle livestream here
Keep checking back for updates! We've seen Impidimp, Morelull, and a new Pokémon – possibly related to Ponyta…
Today at 6 a.m. PST/9 a.m. EST/1 p.m. GMT/10 p.m. JST/11 p.m. AEST, the 24 hour livestream of the Glimwood Tangle location in Pokémon Sword and Shield will begin. Give it a watch below, and check back for updates we'll make to this article summarising the new findings!
Watch live video from Pokemon on www.twitch.tv
Discoveries (bold = new or noteworthy)
Pikachu has been sighted for a few seconds. So too has Morelull, its first appearance in media for these games.
An unidentified tail has been sighted briefly.
A cry had been heard that belongs to Phantump. We've also heard what sounds like trotting.
A Swirlix flew by (already seen in promotional media). Now Phantump floated by.
Impidimp was shown!
A new Pokémon was sighted, albeit with some distortion around it. Check the tweet below for a video recording of it.
Cottonee has been seen flying by.
Ponyta's cry has been heard.
Impidimp walked up to the camera. Something moving can be seen behind it.
The new, horse-based Pokémon has a rainbow mane.
Several clear videos, as well as a screencapped image, of the new horse-based Pokémon can be seen below!
Images and Videos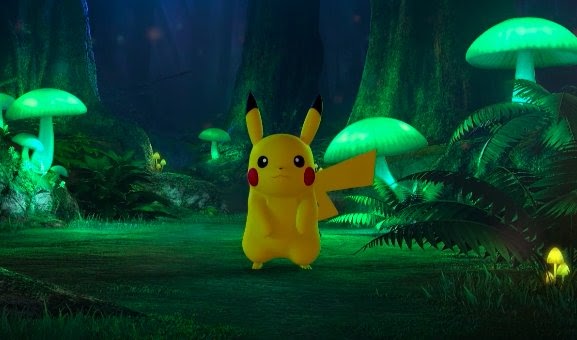 The new Pokémon
The mysterious Pokémon actually has some sort of distortion over it. pic.twitter.com/xK4U4THQ5W

— Your fave gets form/evo, but it sucks (@PLDHnet) October 4, 2019
What was behind it though?? pic.twitter.com/eNetl5cFNX

— Nate Martin (@PokemaniacNate) October 4, 2019
Vídeo con el galope del nuevo Pokémon pic.twitter.com/CmtaBtyxLi

— PokéXperto ⚔️🛡 (@pokexperto) October 4, 2019
Hello, Galarian Ponyta or Ponyta Impersonator! Thanks for the good look this time. #PokemonSwordShield #GlimwoodTangle pic.twitter.com/k5JHkklPUp

— Julian Velasquez (@princezorldo) October 5, 2019
My suspicion is that we have been seeing Galarian Ponyta AND Rapidash, but because they've been obstructed in some way each time, it's been hard to tell the difference. #PokemonSwordShield #GlimwoodTangle pic.twitter.com/L9mU7PH4KN

— Julian Velasquez (@princezorldo) October 5, 2019
IT'S BEAUTIFUL. pic.twitter.com/adIHMVTRjU

— Jen – Crystal Dreams (@PinkSeaVillage) October 5, 2019
Two Ponyta came out to play together. pic.twitter.com/kJTjGOLYRh

— Your fave gets form/evo, but it sucks (@PLDHnet) October 5, 2019