Pokémon Sword and Shield Direct Bingo
Pokémon hype can get uncontrollable, so have some boards of things that may happen to try your patience on.
Hey nerds, ready for some Direct shenanigans?
The Pokémon Sword and Shield Direct is Wednesday, June 5th, for pretty much every time zone (6:00 AM PDT, 9:00 AM EDT, 2:00 PM BST, 3:00 PM CEST, 11:00 PM AEST, you know the drill). We expect fifteen minutes of new info about Pokémon Sword and Pokémon Shield, currently set to release exclusively for the Nintendo Switch in "Late 2019". As such, it's tradition for the Pokémon fandom to come together and make silly and pointless expectations for it, only to have our dreams shattered. Or, like, not. Who knows.
To help manage expectations, the PokéCommunity Daily has created some Bingo cards for you!
For those of you who live under a rock and don't know how bingo works, start by picking one of the five included 5×5 grids and download it, print it, whatever makes you happy. Normally there would be numbers called out by whoever is leading the game, and you mark off the space on your card containing that number if it does. You win if you get five in a row, either horizontally, vertically, or diagonally.
Only this time, instead of numbers, your board contains twenty-four out of thirty-five things that we think may or may not happen during the Direct, as well as an adorable monkey as a free space. So grab a card and tune into the Pokémon Sword and Shield Direct on Wednesday. When one of these things is announced, mentioned, referenced, or otherwise occurs, mark it down on your card. If you get five in a row, you win the grand prize of having something to be happy about if your dreams of a Battle Frontier come tumbling down. Or not? We still don't know.
Grab one of the below cards or distribute them to your friends, and make sure to watch the Pokémon Sword and Shield Direct at those times and places mentioned above. If you miss it (or even if you do watch it live), the PokéCommunity Daily will have pretty-much-live coverage ready for your enjoyment, so come back and check it out!
Card 1: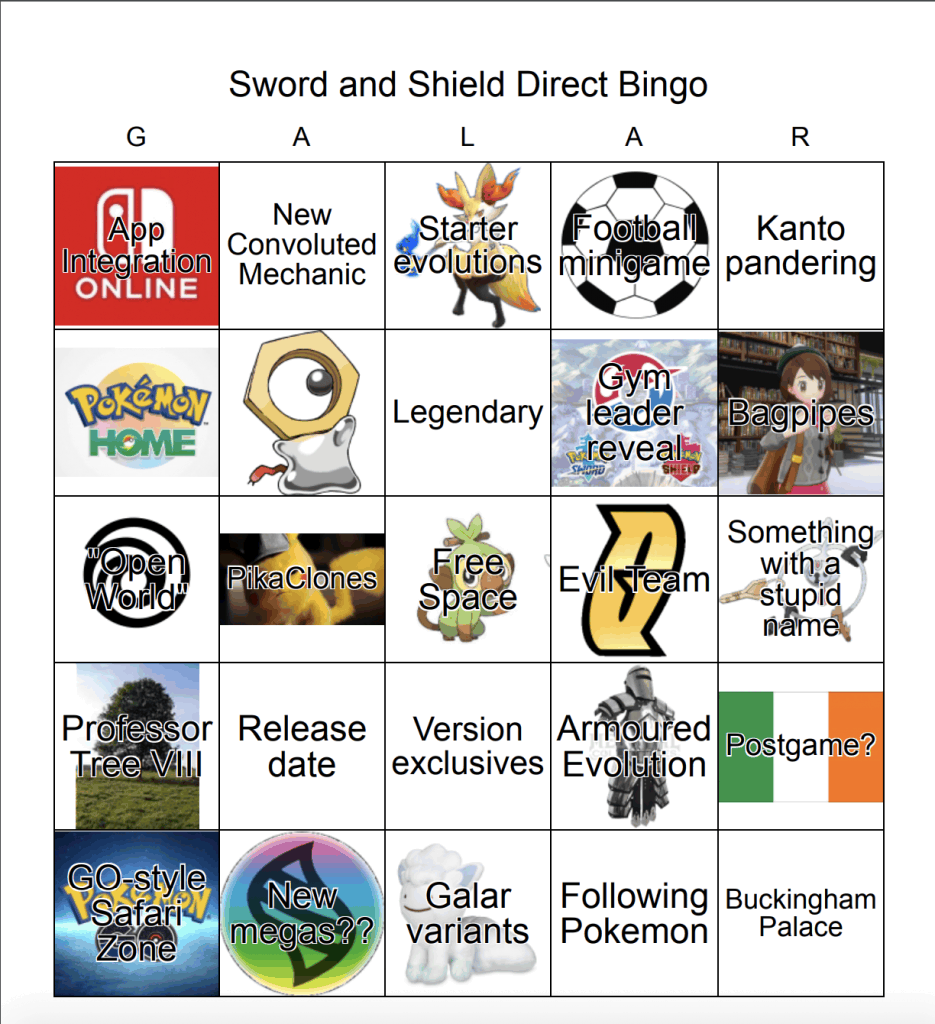 Card 2: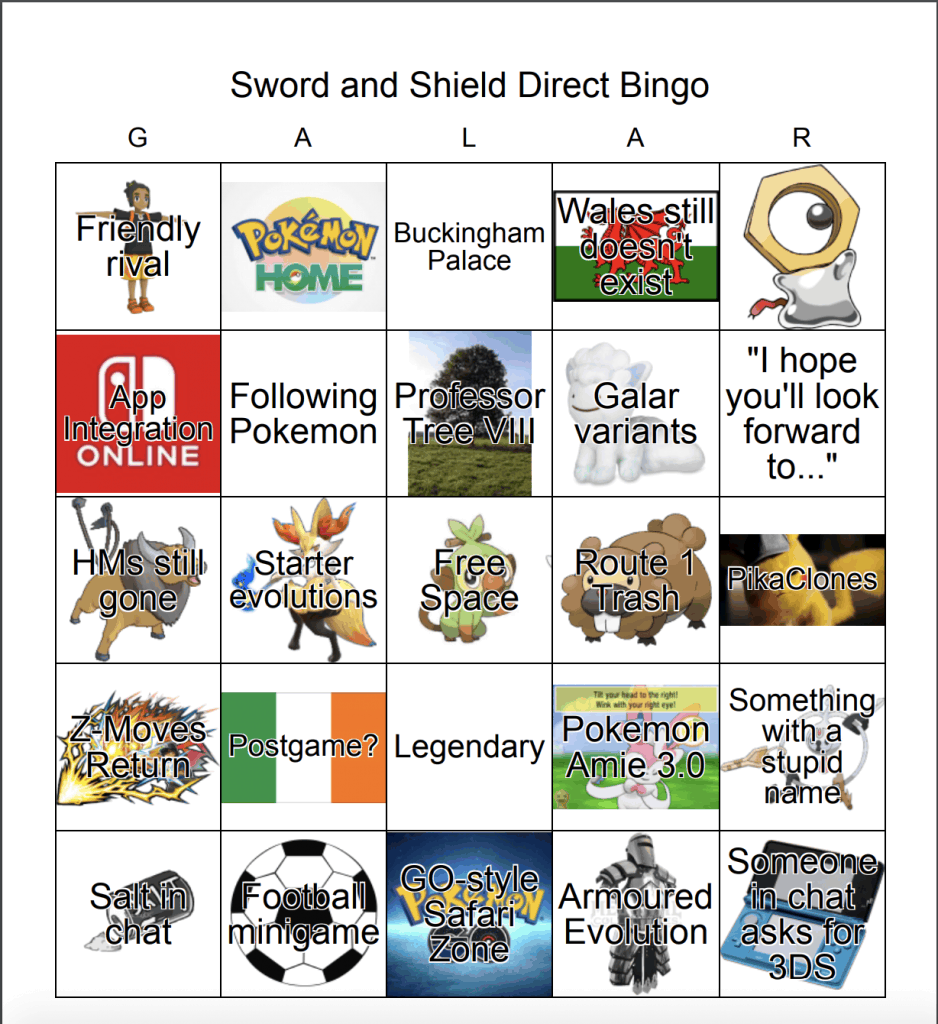 Card 3: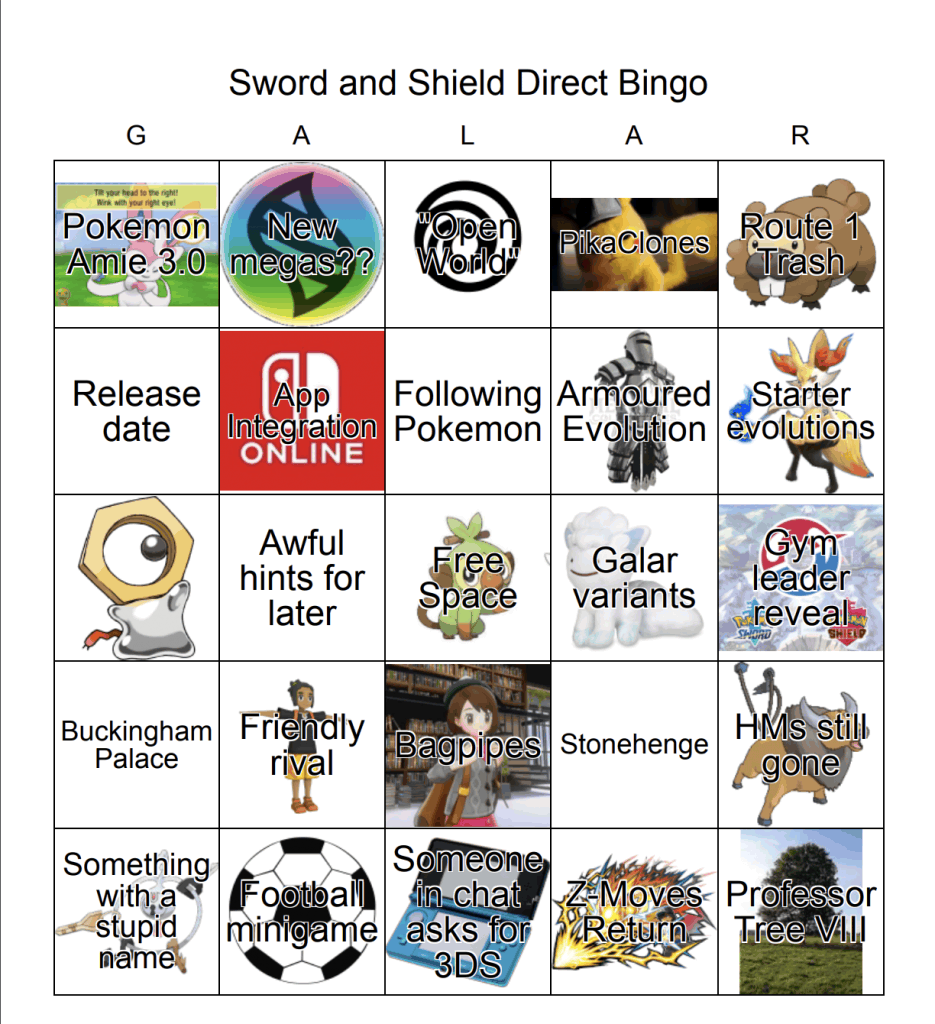 Card 4: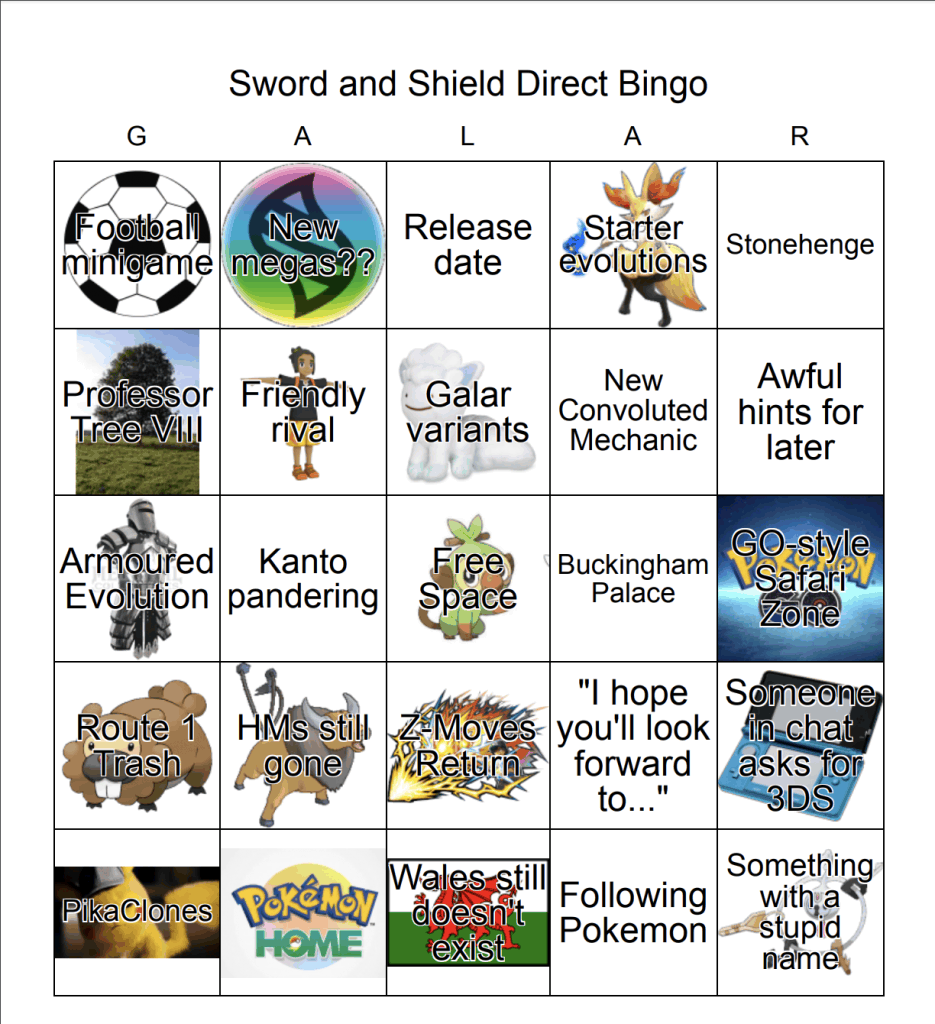 Card 5: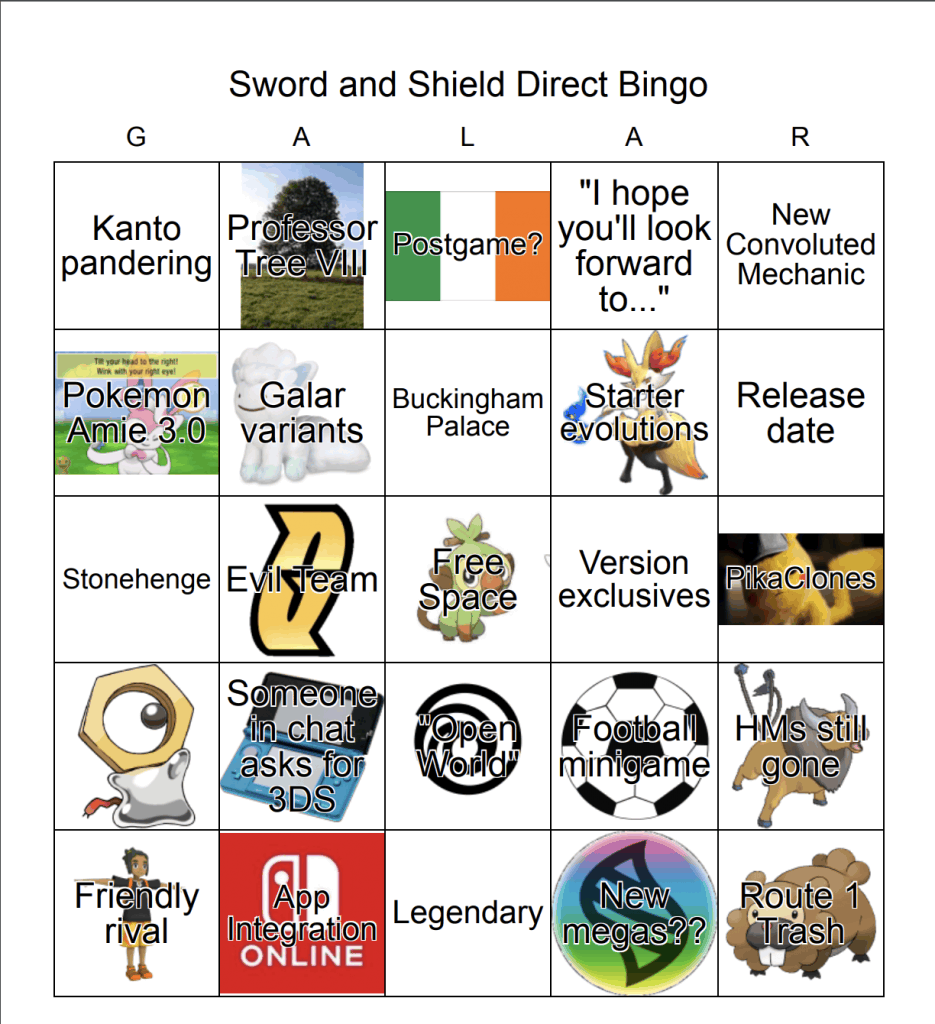 Card 6: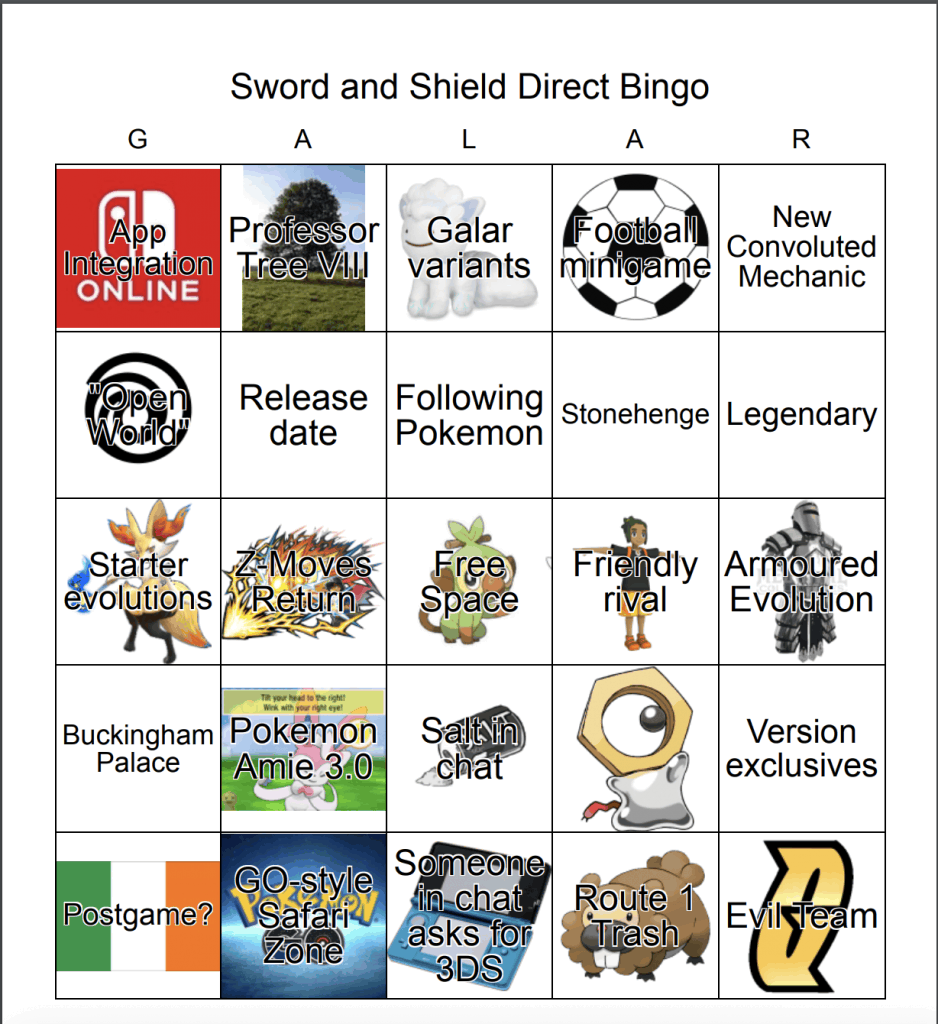 Edited by Aldo and bobandbill.