"Articuno Day" first Global Challenge bonus in Pokémon GO
Meanwhile, Squirtle with sunglasses has been teased… Squirtle Squad incoming? Put the shades aside too, for Niantic's occlusion tech demo featuring Pikachu and Eevee.
For Pokémon GO players, the first part of Professor Willow's Global Challenge begins on June 30 and July 1, and one of the challenges is currently underway for players in Asia-Pacific regions.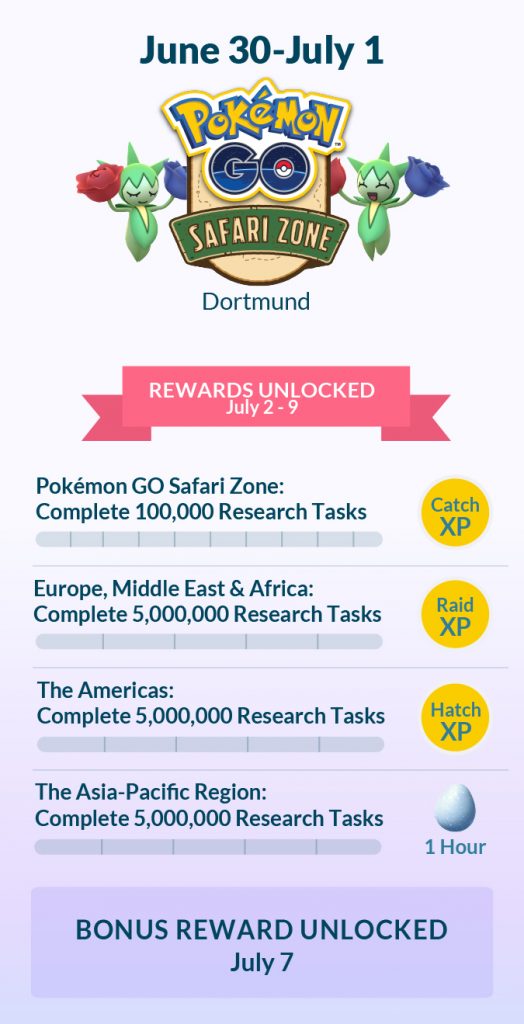 Coinciding with the Safari Zone event in Dortmund, Germany, certain areas in the world have been given challenges to complete, and will be rewarded. For the first Global Challenge, each region, plus participants at the Safari Zone event, have been tasked with completing a certain amount of Research Tasks. Each region also has a specific bonus for completing their task.
Once enough people have completed the challenge, the unlocked bonuses will be available from July 2, and will last until July 9.
During the run-time of the event, Grass- and Poison-type Pokémon from the Hoenn region will also see an increased spawn rate, including, if you're lucky, a Shiny Roselia! It appears that Shiny Roselia will only spawn once the Dortmund event starts.
Professor Willow needs your help! Participate in Professor Willow's Global Challenge on June 30 and July 1 to unlock special bonuses! pic.twitter.com/oQmghFuGs4

— Pokémon GO (@PokemonGoApp) June 29, 2018
The "Bonus Reward" is now confirmed via in-game news. Firstly, spinning a Photo Disc from a Gym will grant players five free Raid Passes. For three hours during July 7, Articuno will appear in Raid Battles around the world, with a chance for a Shiny Articuno to be a catch reward. It is unknown what the Shiny rate will be, nor when these three hours will be yet.
Squirtle Squad for Community Day on July 8?
Meanwhile, Squirtle, who has been previously announced for the next Community Day, has been shown staring at sunglasses in a tweet promoting the day. Community Day is happening next month, on July 8 — check your local times on Pokémon GO's Community Day page. Perhaps you'll be making room not for a shiny Squirtle, but for one with a pair of shades? (Or both?)
Hmm…the weather is looking particularly nice for July's #PokemonGOCommunityDay. ☀️ Remember to pack some sunblock, stay hydrated, and maybe bring some sunglasses. Stay tuned, Trainers. pic.twitter.com/nZL2UaSuov

— Pokémon GO (@PokemonGoApp) June 29, 2018
It is worth mentioning that June 27 was National Sunglasses Day. What better way to celebrate it than for The Pokémon Company International's YouTube channel to post about it?
Niantic demos AR mode with Pikachu and Eevee hiding behind real-world objects
Lastly, Niantic showcased developments it has made with AR technology. In the video above they show how they have managed to have Pikachu and Eevee chase each other around real-life objects. How cute is that?
Are you excited about the rewards, and a chance at a Shiny Articuno?
Co-written and edited by Jake.