UNCONFIRMED: Pokémon Let's Go! Pikachu, Eevee next titles (NOW TRADEMARKED)
Reportedly for the Nintendo Switch and set in Kanto, including some connectivity with Pokémon GO. We'll update when there's official confirmation!
UPDATE: The titles have been trademarked by the same company that Nintendo used to trademark Pokémon Sun and Pokémon Moon. There now is a chance that these titles are confirmed, but we do not know as of right now.
Serebii Note: Domains for Pokemon Lets Go Pikachu & Pokemon Lets Go Eevee registered by the same company Nintendo used to register the official Pokémon Sun & Moon website domain https://t.co/gDbXkHSvkT

— Serebii.net (@SerebiiNet) May 16, 2018
Warning: this is currently not confirmed, and remains a rumour. This article has been published given the large amount of support for these rumours from independent sources, and coverage by respectable sites. We will update when further evidence is available.
---
The next Pokémon titles for the Nintendo Switch, something previously confirmed to be in development at E3 2017, has been leaked by various sources. No official statement has yet been given about these titles.
What do the rumours say?
This information is yet to be confirmed in its entirety, but here is what we have so far that appears consistent across multiple rumours:
The title is Pokémon Let's Go! Pikachu. A second title of Pokémon Let's Go! Eevee, which is a second version of the game, has also been a common feature of rumours.
The game is set in Kanto. It is based on Pokémon Yellow but is not necessarily a straight remake.
Integration with Pokémon GO will be a feature.
Different gameplay mechanics may be involved. This may make this title a spinoff rather than a main series generation eight title.
There are other claims, but these do not appear to yet have significant support from independent sources.
What makes this believable?
Multiple independent sources have claimed different parts of this game, such as it being set in Kanto, not being a generation eight title, the connectivity with Pokémon GO and the highlighting of both Pikachu and Eevee. While this list is not exhaustive…
The cover image of this article is a leaked logo for the game.
Pixelpar, a Twitter user who has leaked Nintendo information before, claims he has hinted at this before in a series of drawn tweets.
— Pixelpar (@pixelpar) May 15, 2018
(3/4) cohost of the podcast asked: "what kind of game is it going to be, a remake of Diamond and Pearl?" Daan answered: I will say this in a tactical way: It is not gen 8. It is kind of a remake, but not a remake of Diamond and Pearl.

— pokemon sun and moon (@teamsunandmoon) April 27, 2018
Serebii.net has reported on the rumour – while stressing it is currently not confirmed, this is nonetheless something the site owner has felt valid enough to report on. Serebii has a history of not reporting on run-of-the-mill rumours, so this stands out.
Over the past few days, the rumours have been in full swing across the Internet about the upcoming Nintendo Switch Pokémon titles. However, earlier today a logo went up on various messageboards around the Internet which showcases the name: Pokémon Let's Go! Pikachu which matches up with various pieces of alleged leaked information that have come up for the game. At present, it is not known if this is official but we will provide full details as and when they come.
A lot of Eevee (and Pikachu) merchandise and advertising has officially occurred in Japan in the past couple months, notably from places such as the Project Eevee Twitter account. This includes tweets including Eevee among Kanto starters, stating 'the number of friends has increased'. Other examples include a person in an Eevee suit visiting various places.
仲間がさらに増えました。 pic.twitter.com/bdokwlAzIG

— 【公式】プロジェクトイーブイ (@project_eevee) May 14, 2018
An older rumour involved an image of a Lapras, and an Eevee, did the rounds, which may line up with this. The assets would also point to this being a generation seven title rather than generation eight.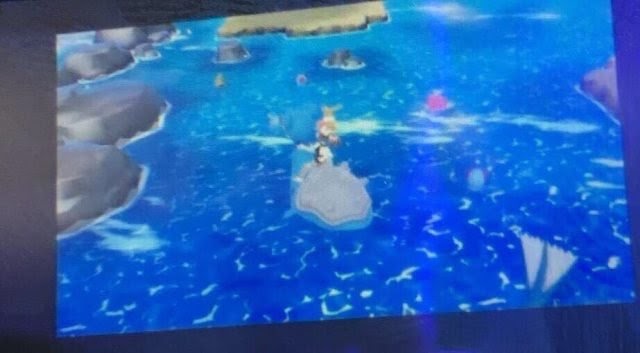 ---
We stress that this remains unconfirmed. Some details in these rumours may prove incorrect even if the next Pokémon game is confirmed to be set in Kanto, or feature Pikachu and Eevee, and so forth. Be wary of the above and further claims on the internet! For instance, this isn't necessarily going to release this year, and may not be a new generation main series game. Indeed, moving away from the tried and tested formula that has worked for the second best selling video game franchise for a main series title would be strange.
As it is, the only official word is that a Pokémon title for the Nintendo Switch is in development and was aimed for a "2018 or later" release, as of E3 last year. Even the developer had not been spelt out at the time.
What do you think about this rumour – are you hoping it's true, or would you rather something different for the next Pokémon title?
Edited and updated by HeroLinik.