Pokémon GO celebrates the Lunar New Year with Safari Zone event
At the Chiayi Lantern Festival in Taiwan? Take part in a special Safari Zone event for Pokémon GO. Also available for everyone: Team Rocket and Team Rainbow Rocket outfits.
Update (07:16 PM February 15, 2018): Pokémon GO has now announced a Lunar New Year event for the rest of the world with triple stardust rewarded for catching certain canine Pokémon.
Feeling lucky? Starting today until February 17, Trainers who catch a Poochyena, Growlithe, Snubbull, Eevee, or Electrike will receive bonus Stardust. Happy #LunarNewYear! pic.twitter.com/FqaVsO65b3

— Pokémon GO (@PokemonGoApp) February 15, 2018
Players at The Silph Road are also reporting finding Shiny Poochyena. There is no word yet on whether the other Pokémon in this event can also be found in their shiny formes.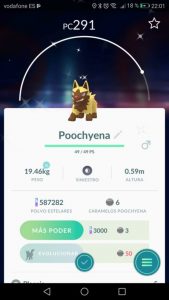 The Pokémon GO team have announced a new Safari Zone event at Taiwan's Chiayi Lantern Festival in celebration of the Lunar New Year.
If you happen to be in Chiayi County and have the chance to check out the festival between February 26 and March 3, there's a specific schedule in which certain Pokémon will become available:
Dratini, Mr. Mime, Growlithe and many other Pokémon will be appearing at the Pokémon GO Safari Zone event among the lanterns during the daytime, starting at 7:00 AM. At 5:00 PM, as the lanterns begin to glow, Trainers will see Chinchou and Lanturn in the wild! There will also be Pokémon to discover around Puzi City and the rest of Chiayi County, so make sure you walk around and enjoy all that Chiayi has to offer. And of course, don't miss the beauty of the lanterns, which will bring good health, wealth and love in the New Year.
If you haven't caught these Pokémon and you're somewhere in Taiwan, why not take the opportunity to celebrate the Lunar New Year and catch 'em all?
For everyone else anywhere in the world, prepare for some GO-based trouble, and make Niantic's profit double, as Team Rocket's blasting at the speed of light, delivering two new outfits for GO Trainers.
The outfits are available for 400 Poké Coins. Why not use the outfit to coerce your friends to surrender now, or prepare to fight?
Edited by bobandbill and Forever.
Team Rocket screenshot by FireRedDavid – /r/TheSilphRoad
Shiny Poochyena screenshot shared by Albert83BCN – /r/TheSilphRoad