[LIVE] Ash Hat Pikachu Available Worldwide From September 19th
You'll be able to get one of six Ash Hat Pikachu in your Sun & Moon games, as well as a bonus exclusive Pikachu if you attend a screening of the 20th movie!
UPDATE: A code has been revealed: PIKACHU20. Enter that into Mystery Gift from the main menu to receive your Ash Hat Pikachu! However, do note you can only get one of them (see below). The Nature appears to be set to Hardy.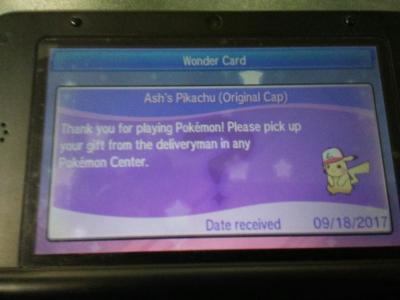 ---
Ash Hat Pikachu will be available through Code download worldwide from September 19th for Pokémon Sun & Moon.
Each week, one of the six Ash Hat Pikachu will be released through a Code on Pokemon.com – however you are only able to receive one of the six different types of Pikachu, so make sure to choose wisely! It also comes with the Pikashunium Z item, which allows for a unique Z-Move only able to be used by Ash Hat Pikachu.
| Hat | DISTRIBUTION dates |
| --- | --- |
| Original Hat (Kanto & Johto) | September 19th – 25th |
| Hoenn Hat | September 26th – October 2nd |
| Sinnoh Hat | October 3rd – 9th |
| Unova Hat | October 10th – 16th |
| Kalos Hat | October 17th – 23rd |
| Alola Hat | October 24th – 30th |
According to Pokemon.com, each Pikachu will also have access to a different moveset.
Not only will each Pikachu sport a different hat, but they will also come equipped with a unique set of moves that reflect those that Pikachu would often use in the region that corresponds with the hat it wears.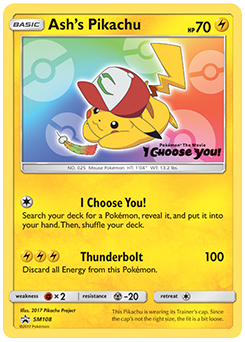 Tying in with the release of Pokémon the Movie: I Choose You!, fans who attend worldwide screenings of the 20th Pokémon movie will receive an additional QR Code for the I Choose You Hat Pikachu, which can be redeemed in Pokémon Ultra Sun & Ultra Moon.
Distribution details for the Ash Hat Pikachu in Japan were originally released back in March.
Which Ash Hat Pikachu will you be getting?
Thanks to Soapyyy and Clear for the tips!
Edited by Kostas.