2018 Championship Series Details Announced!
Details on the next Championship series tournaments have been revealed.
We've received information on the next Championship Series events! The Championship Series is the official competition for both Pokémon TCG and Pokémon VGC players. For those who don't know how these competitions work, there are events you can find near local game stores, with all those tournaments leading up to the four International Championships events. These events are qualifiers for the annual Pokemon World Championships.
Players can compete in Championship events by accumulating Championship Points, which you can already start earning by competing in various events, for the 2018 season! You can use the official Event Locator to find a tournament close to you!
The rules have been changed for this series with a full breakdown found on the Rules and Resources section on the official Pokémon website. Players should also note that due to the TCG format rotation happening on September 1st 2017, earlier TCG tournaments will use the current format.
The following Play! Pokémon Championship Series events have been announced to be open to all players.
Interestingly, the European International Championships are scheduled to kick the everything off between November 17th and November 19th (with the rest of the tournaments then following this), which coincides with the release date of Pokémon Ultra Sun and Ultra Moon. Coincidence, or will Pokémon Ultra Sun and Ultra Moon be taking the helm at the Championships?!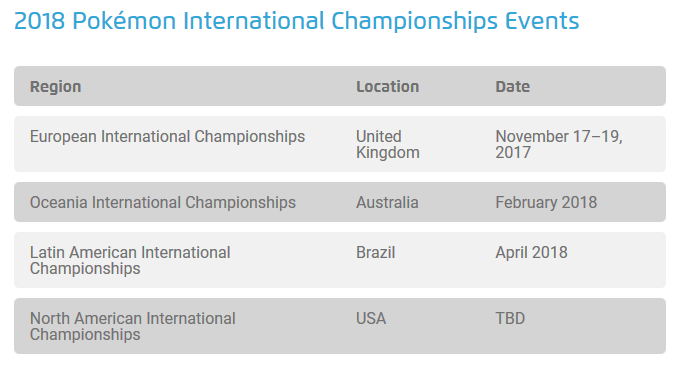 You can find further information regarding the Pokémon International Championships and their details over on the official Pokémon website.
Edited by Jake, Volpe Artica and wolf.