Pokémon GO to support ARKit on iOS devices [Updated]
Demonstrated at Apple's Worldwide Developer Conference, expect ARKit to hit Pokémon GO this fall.
Of the features coming to GO as part of its anniversary, here's one that will make it to iOS devices soon.
For a Pokémon fan and an iPhone-toting Pokémon GO player, watching Apple's 2017 Worldwide Developer Conference (WWDC) might have been a bit of a dream. With Apple being no stranger to the mobile game's popularity (and the chummy relationship Nintendo have demonstrated with them recently), it might be a bit less surprising to see Pokémon GO take a bit of time on-stage when Apple announced its augmented reality framework for iOS 11 at the conference this year, as a technology called ARKit will be, according to Bloomberg, coming to Pokémon GO in the fall. For anyone toting an iPhone or iPad and playing Pokémon GO, things are about to get a bit more real.
As described running with ARKit, "the Pokémon is so real, he's right there on the ground. As the ball bounces, it actually bounces right there in the real environment." With ARKit allowing developers to place 3D objects on what ARKit interprets to be a plane, Pikachu hops on the actual ground and the ball bounces off Pikachu, hits the ground and disappears.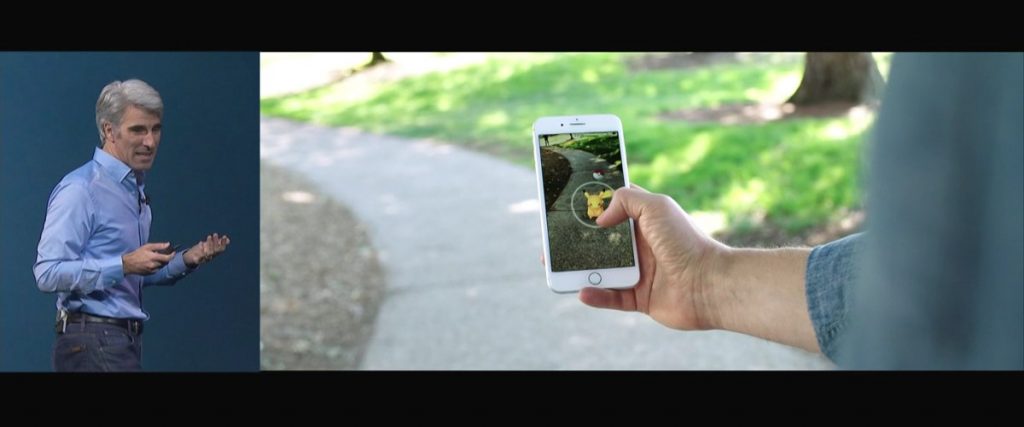 As Apple describes it:
iOS 11 introduces ARKit, a new framework that allows you to easily create unparalleled augmented reality experiences for iPhone and iPad. By blending digital objects and information with the environment around you, ARKit takes apps beyond the screen, freeing them to interact with the real world in entirely new ways.
To Bloomberg, Niantic both applauded Apple's push for augmented reality, and has stated that that the update will be coming this fall. Presumably, this means that any recent iOS device that can run Pokémon GO will be able to take advantage of the ARKit features when catching Pokémon in AR mode. For those who are familiar with the AR mode in the game, it's a little wonky, as the game doesn't really attempt to make an assumption as to where the ground actually is. With the ARKit framework helping the game detect these, catching Pokémon will look so much better on iOS devices. No word on whether any equivalent features will be coming to the Android version.
Update: Niantic have posted a statement on their company blog (check it for the screenshots mentioned in the statement!)
Trainers,

As you probably already caught in the news, we are currently at Apple's Worldwide Developer Conference (WWDC) in San Jose, California to reveal how we are working on enhancing Pokémon GO's augmented reality features even more with Apple's new ARKit for developers being released with iOS 11 this fall.

Utilizing this exciting advance in AR, we are working to create new, fun and innovative ways to place Pokémon in the world around you, to view Pokémon, and to use your phone camera to capture the moment. The digital world will overlay the real world in more detailed and accurate ways and you will be able to interact with Pokémon in a more immersive and life-like fashion. For a sneak peek into how these advances may be applied to Pokémon GO in the future, see the screenshots below to get an early look into what's currently possible in the Pokémon GO ARKit tech demo.

In addition to this week's announcements with Apple, we have a lot to celebrate these days, as we are also planning for an epic summer in the northern hemisphere, which we'll be sharing more details on shortly.

We can't wait to tell you more about the new AR features and to share an even more engaging Pokémon GO experience soon!
Still, what do you think? Do you have a device that could make use of these capabilities? Be sure to comment on what you think!
Edited by SirBoglor.