Pokémon Anime Daily Sun and Moon Episode 28 Summary/Review
This week in the anime, a big baseball match is held! Read about what happened in the episode!
This week we are back with another episode of the Sun and Moon anime. This week's episode is about the grand baseball match of the year! The episode opens up with Ash and Kukui watching Pokébase a popular sport in Alola. This is basically baseball combined with Pokémon and involves humans and Pokémon being part of the team. Ash having first learned about this sport by watching it is fascinated by it and gets really involved in the game. The next day, Ash and friends are discussing the match at school.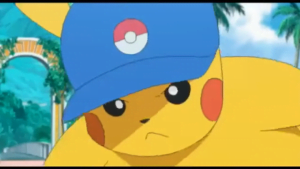 Everyone learns that the baseball team is on the island and then Principal Oak comes in and makes an announcement about their special class today. As Oak steps aside a Snorlax and the biggest star of the baseball team (Oruoru) step into the classroom. Today the group are going to learning about the sport and play it to strengthen the bonds they have with their Pokémon. Everyone is excited and the scene shifts to the big match. The classmates are split up between the two teams and Kiwae is put as the head pitcher for the team that opposes Ash's, making him a formidable opponent. Kiwae's signature pitch the "Inferno Overdrive Pitch" is striking out Ash over and over and his team ends up being one point away from losing. At this point in the match Kiwae is confident that his team will win, until Lana steps up to bat.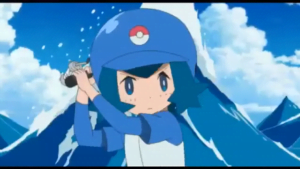 Lana channels the ocean and imagines the bat as a fishing rod and hits a home run shocking everyone. This score actually allows Ash's team to win since they were so closely tied. The ball Lana hits ends up hitting Meowth who is walking with Team Rocket near the school. Here we see that Jessie has a picture of Oruoru and is in love with him. After being hit by the ball, Team Rocket investigates and ends up at the Pokémon School. Jessie freaks out seeing Oruoru there and their plans change. Meowth is angry after being hit by the ball and throws it at the group, but Ash catches it. Team Rocket then reveal themselves to the group.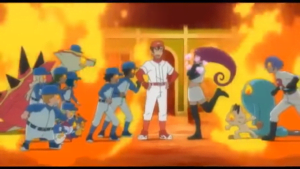 The group thinks that Team Rocket is there to steal Pokémon, however Jessie insists she just wants Oruoru's autograph. No one believes her and they all get into an argument. Oruoru tells everyone that they will settle this with a game of Pokébase and whoever wins can get his autograph. Another round of Pokébase then begins! Jessie goes up to bat first and Pikachu is the pitcher. Team Rocket decides to hit the ball towards Snorlax who is helping Ash's team because they don't think it's motivated to play. Jessie hits the ball Pikachu throws and it bounces off of Snorlax who doesn't move. Jessie however doesn't know the rules and doesn't run towards first base right away allowing Kiwae to get the ball and strike her out. James goes up next and hits the ball, however Oruoru catches it, striking him out. The scene shifts and it's Ash's team's turn to bat. Pikachu is up first and Mimikyu is the pitcher.
Mimikyu is motivated to literally destroy Pikachu with the ball and throws it with astonishing force, capable of wiping out Pikachu if it hadn't avoided the ball. Ash calls Team Rocket out on this, saying that's cheating and Jessie switches Mimikyu as the pitcher with Meowth. Meowth manages to strike out nearly everyone on Ash's team with his fierce quick throws. This has allowed Team Rocket to take the lead and they only need two more points to win. Oruoru is up next and manages to hit the ball Meowth throws catching him off guard. Oruoru manages to make it to second base and then Snorlax comes up to bat. Snorlax isn't very motivated but the groups cheers it on. Meowth throws the fastest ball he could, calling it a Meowth Ball and Snorlax doesn't move the bat. However the ball hits the bat and Snorlax manages to bunt it. This allows Oruoru to make a run for it as the ball gets caught by Mareanie. James tells it to throw the ball to him, however it charges towards James and drops the ball in the process allowing Oruoru to continuously run the bases. Meowth then tries to stop him. Oruoru has a trick up his sleeve though!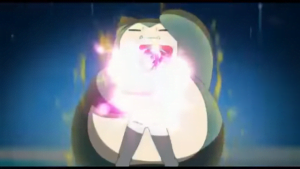 Oruoru unveils a Z-Ring and has Snorlax use Pulverizing Pancake to get it to run and score a homerun. This works and Snorlax crushes Wobuffet who is the umpire, causing it to drop the ball and allow Snorlax to get another point for the team, which lets Ash's team win. Team Rocket is upset, but Oruoru goes over and hands his autograph to Jessie too. She is surprised by this since they lost and thanks him, however she doesn't get to receive the autograph. Bewear runs by and snatches Team Rocket away before Jessie can take the autograph and Jessie is devastated. Oruoru then turns to everyone else and thanks them for the game and practice and the episode ends.
That's all for this week, be sure to come back next time as we learn all about Morelull!
Edited by Axeliira, Bobandbill, Dragon, Volpe Artica, Zach.