Magikarp Jump Guide
Get hooked line and sinker with the latest mobile game that's making a splash – Magikarp Jump!
---
Magikarp Jump has finally released worldwide on Android and iOS mobile devices after a surprise release in Italy last week. Check out our guide where we cover the basics and share hints and tips to training and winning leagues with your Magikarp!
What is Magikarp Jump?
Magikarp Jump is an incremental, or idle, clicker game, not too unlike for example Cookie Clicker. By training and feeding your own Magikarp, you improve its jumping ability. You then enter your Magikarp into leagues and try to have it jump higher than opponent Magikarp. Each Magikarp can only jump so high, however, and soon enough you'll begin the process again with other Magikarp. The more you win, the stronger Magikarp you can get, and the more items and upgrades you can purchase to aid new Magikarp in your eventual goal!
Magikarp Jump is a free-to-play game, with app purchases possible to buy in-game currency, which in turn can be used to buy items. However, it is not necessary to spend any real cash to play Magikarp Jump. The only advantage is speeding up the growth of your Magikarp.
Your Magikarp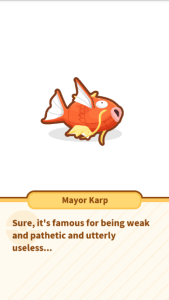 To get started, you'll have to fish up your own Magikarp. Every one of them is unique, as they have a wide array of different patterns, as well as their own personal boost. The latter can be a higher coin gain, or a faster growth when eating, or after a training session. As for the patterns, Magikarp have Standard patterns, as well as Calico, Two-Tones, the prized Gold pattern, and much more! Keep in mind, however, patterns are strictly visual, and will only be fully visible once the Magikarp has grown 2/3 to its max level!
Furthermore, your Magikarp can be Male or Female, and be given a nickname, which can be changed at any time. Each Magikarp has a maximum level, determined by your Trainer Rank at the time it was fished. Once it gets to that level, it will battle until it loses (or wins a League). After that, it will retire and give a permanent passive boost to your future Magikarp. These passive boosts stack up (reportedly up to 600%), so be sure to give your Magikarp their hard-earned rest!
When fishing up Magikarp you can spend 10 Diamonds to try for a different one. As Diamonds are rare though, if you don't want to put money into the game we recommend sticking with your first catch. You can retire your Magikarp early instead, and training it all the way increases the passive boost and grants you more EXP.
Jump Power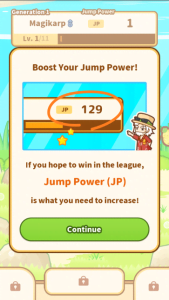 Your Magikarp's proficiency in League Battles is determined by its Jump Power or JP. The higher its JP, the higher it can jump! You can boost your Jump Power by feeding it Berries, training it, and encountering Events.
Magikarp of the same level can have different Jump Power maximum limits. Their maximum level is also 10 higher than your Trainer level, the latter which can only be increased by doing battles or by retiring a Magikarp to its maximum level. There are two events that raises the level of the Magikarp being trained by one… However, one of those is a one-time-only event.
Berries
Berries will be your main source of Ju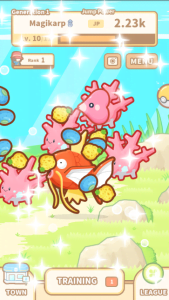 mp Power. They appear frequently in your Magikarp's pond and can be consumed by tapping on them. When you first begin, only the Oran and Sitrus Berries will be unlocked, and you'll need to spend coins to unlock additional Berries and to increase how much JP they give. Increasing your Trainer Level allows you to unlock new Berries.
As Berries are incredibly common, it's a good idea to power them up as much as possible to increase the Jump Power they provide to your Magikarp. Even the Oran Berry can give over thousands of points each with sufficient leveling!
We recommend leveling berries to multiples of level 25 (25, 50, etc.) rather than one level at a time for each kind. Each time you do this you receive a Support Candy, which can be fed to Support Pokémon.
Tip: You can zoom out to get a better view of your pond!
Training
Training increases t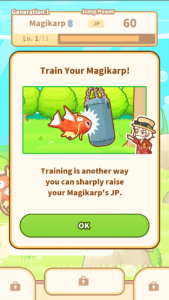 he JP of your Magikarp. They perform exercises which vary between jumping, tackling (say a tree), and flailing (to push heavy Pokémon away). Like Berries, you can purchase and upgrade more exercises as your Trainer Level increases.
Which event is chosen is random, as is the amount of JP that you get. Your Magikarp may do "good", "great" or "amazing" at any event, which corresponds to the animation. For example, in the Timber Training (where Magikarp Tackles a tree), a Good effort shows an unmarked tree, a Great effort has the tree bruised, and an Amazing effort knocks the tree over!
There are limits to training. You can only do three courses in a row before needing to wait for a recharge, using a Support Power (e.g. Piplup's Support), using a Training Soda item, or leveling up. It takes 30 minutes to recharge one point.
Tip: Forcing the app to close when getting your Magikarp's effort visual cue (before the text cue) can make it reset. Use this for optimal results!
League
The main component of the game is the battles! There are currently eight leagues in the game, each made up of multiple rounds of one-on-one battles. The battles are simple; you just watch your Magikarp jump against the other. The Magikarp with the higher JP wins. Winning battles grants Coins and EXP for your Trainer. Losing still gets you a few coins. If you lose a battle and your Magikarp is not fully trained, you have to wait 90 minutes to be able to battle again or use up a League Spray item.
Your Support Pokémon (e.g. Pikachu) can sometimes cheer and give your Magikarp a boost (5% or 25%). If you're lucky you could pull off an upset! This happens completely randomly, however.
Events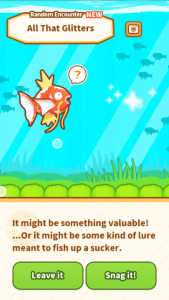 Events occur after Training or a League battle. These vary wildly and are completely random (although the higher your level, the more events that can happen). Sometimes your Magikarp will get a free massage and from this gain a bonus Training Point. Sometimes you will get free coins. Other times, an event will cause Magikarp to get bonus JP! The rewards also increase when you have a higher Trainer level.
Some events exist that give you a choice; take a risk, or play it safe. Even the safe options will grant your Magikarp JP, so if you care about your Magikarp, don't rush in! This matters as some events can make you lose your Magikarp. You do get an achievement and record for this happening, but that's hardly fair on the Magikarp itself.
The Events with choices are as follows (with the more dangerous ones at the bottom):
All That Glitters – You could find Diamonds or broken glass that causes you to lose JP.
Jumping Lesson – You could gain JP or lose coins.
Magikarp Adrift – You could gain or lose JP.
Old Rod – You could gain or lose JP.
Slacker Magikarp – You could gain Training Points or lose JP.
Mystery Drink – You could gain Training Points or lose JP.
Macho Karp – You could gain a bonus level for the Magikarp being trained, or have Magikarp become a Gyarados, and hence lose it.
Out of Nowhere… – You could gain JP, or encounter a Pidgeotto who snatches Magikarp.
Is It Treasure? – You could get Coins, or encounter a Voltorb which makes you lose your Magikarp.
Lastly, you can encounter special events in the aquarium. Feebas and Manaphy can appear to grant you JP or free food respectively when tapped. Tap your level 20 Magikarp too much and it may just evolve into a Gyarados next level up! Jump too much and a Pidgeotto may claim a free lunch.
And for a spooky event, try tapping and cancelling that television multiple times. 14 times to be exact. The next time an event triggers your Magikarp will gain a bonus level! This can only be done once, and applies only to the Magikarp currently being trained.
Town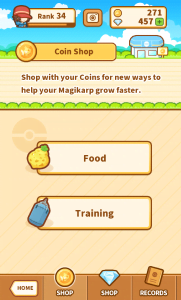 This is where you buy new berries, new training routines, friendship items, decorations, and consumable items such as Training Soda.
Berries and training routines will require coins to buy, and coins to upgrade. Many can only be purchased once you get to a specific Trainer Rank.  Each will have a gauge that needs 25 upgrades to fill, and it will grant a Support Candy each time it is filled. Friendship items, decorations, and consumables can be purchased with Diamonds, a different and rarer currency.
Only some friendship items can be upgraded, and they need different amounts of Support Candies. Once bought, the support Pokémon will come to live in Magikarp's pond, offering special abilities and they may even come to its battles to cheer on it. Their support abilities have a cooldown, however, so use them wisely!
Light Ball – Pikachu gives you a little JP. Free
Mystic Water – Piplup restores Training Points. Beat the Quick League
Amulet Coin – Meowth give you coins. Beat the Fast League.
Miracle Seed – Bulbasaur restores Magikarp's League Play. Beat the Luxury League
Flame Plate – Litten gives JP. 250 Diamonds
Damp Rock – Slowpoke restores the skill of 1 random support Pokémon. 350 Diamonds
Meadow Plate – Rowlet gives you lots of coins. 450 Diamonds
Splash Plate – Popplio drops sunken treasure. 500 Diamonds
Leftovers – Snorlax provides food. 500 Diamonds
Charcoal – Charizard gives you a great item. 600 Diamonds
Every decoration purchased will have its passive boost activated at all times, even when not in use.
Important Sign – Raises the maximum food cap by 1. Lose a Magikarp
Octillery Pot –  Gives 10% more JP from Berries. Beat the Heavy League
Sudowoodo Bonsai – Gives 29% more coins from Events. Beat the Fast League
Parasect Puffballs – Grants 16% more JP from Events. 100 Diamonds
Exeggutor Palm – Grants 12% more Coins from League Battles. 150 Diamonds
Sunflora Bunch – Grants 28% Coins from Events. 200 Diamonds
Shaymin Planter – Gives 14% more JP from Berries. 250 Diamonds
Lampent Lamp – Grants 29% more Coins when levelling up. 250 Diamonds
Substitute Plush – Raises the maximum food cap by 2. 300 Diamonds
S.S. Anne Model – Get 68% more Coins from sunken treasure. 350 Diamonds
Aegislash Statue – Get 16% more JP from Training. 350 Diamonds
Whimsicott Cushion – Gives 9% more Trainer Exp. 450 Diamonds
Bronze Eevee – 4% more chances to get a League Event. 550 Diamonds
Tip: How can you get more coins? You can get coins for hitting level intervals of 5 for your Magikarp. However, don't open up the prizes until you get a Magikarp with an individual bonus for coins. The higher that bonus, the more coins you'll get!
Have you taken the plunge yet? Come have a laugh with us in our dedicated Magikarp Jump forum!
Endgame spoilers ahead
As of 2017-05-31, there is no league beyond the Luxury league. However, when you beat it, you recieve information that the Heal League is coming in a future update! Furthermore, you recieve the Great Old Rod, which gives you access to tons of new Magikarp patterns! You can also win plenty of rewards, including Diamonds and Support Candies, by playing the Expert League over and over again!
Parts written by bobandbill and Rainbow.
Edited by Radiating.
Thanks to colter519 and Johnny for further information!