Ash Hat Pikachu distribution confirmed
The Pikashumium Z Crystal will also be distributed! It's all part of pre-order bonuses for tickets of the 20th Pokémon movie.
The Japanese magazine CoroCoro has leaked, and once again gives us new Pokémon information. A distribution for an "Ash Hat" Pikachu has been confirmed.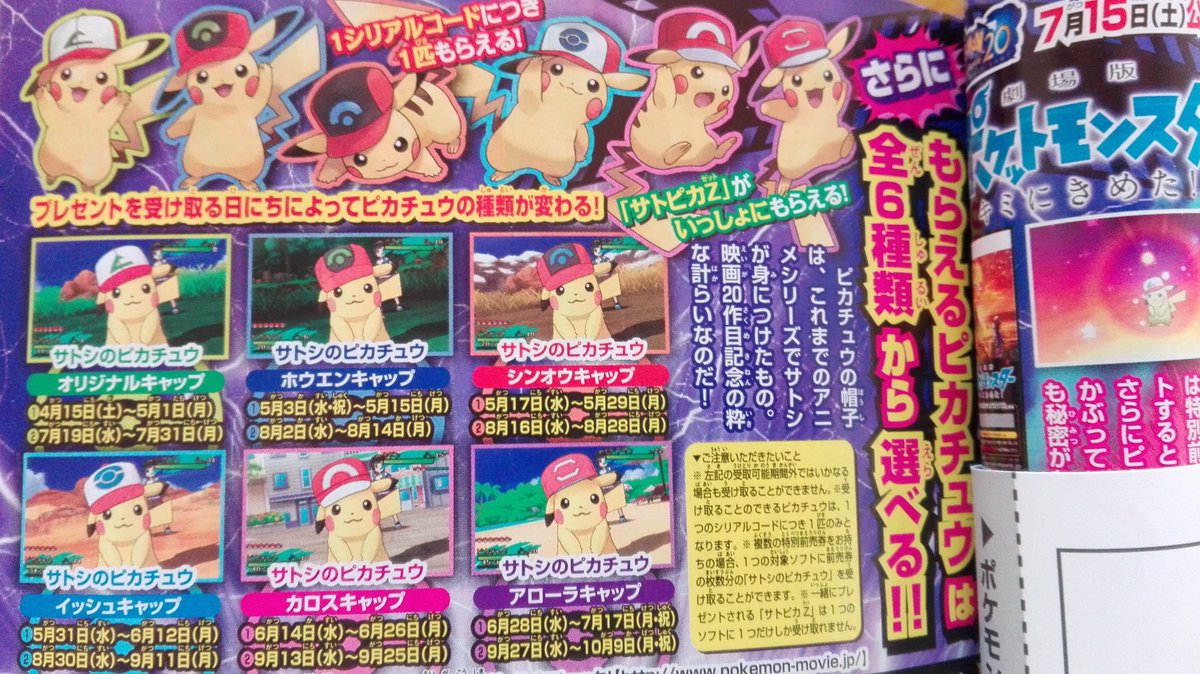 If you pre-book a ticket in Japan for the upcoming 20th movie, you will receive a serial code. It grants you the Pikashumium Z Crystal, used for the special 10,000,000 Volt Thunderbolt Z Move for Pikachu. Each serial code can only be used once.
Different hatted forms exist for Pikachu. The "Original Cap" Pikachu is the first to be released, between the dates of April 15th to May 1st and later again during July 19th to July 31st. Other hats and their dates are as follows:
| Hat | First dates | Second dates |
| --- | --- | --- |
| Original Cap | April 15th – May 1st | July 19th – 31st |
| Hoenn Cap | May 3rd -15th | August 2nd – 14th |
| Sinnoh Cap | May 17th – 29th | August 16th – 28th |
| Unova Cap | May 31st – June 12th | August 30th – September 11th |
| Kalos Cap | June 14th – 26th | September 13th – 25th |
| Alola Cap | June 28th – July 17th | September 27th – October 9th |
Which hat do you like the best? Do you hope this distribution will eventually make its way out of Japan?
Thanks to Dragon for the tip.