New mobile game 'Splash! Magikarp!' announced
Splash! Magikarp! has been announced through a quirky mock newspaper article. The game releases Spring this year.
The official Japanese Pokémon website and Twitter account have announced a new mobile game, Splash! Magikarp! (translation). The game releases for iOS and Android devices in Spring 2017. The game is developed by Select Button Inc., creators of the mobile game Survive! Mola mola!.
A side website displays a mock newspaper article (the 'Pokémon App Newspaper') about the game. Check out the clipping below.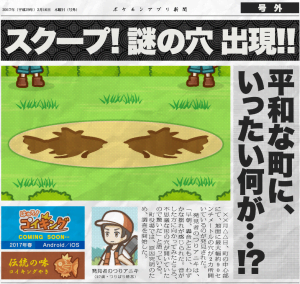 The headline to the right reads "What's happening at this peaceful village…?", while the top headline says "Scoop! Mysterious Hole Found!". A 90-cm Magikarp is also mentioned.
That's all the news currently available on this game. We'll bring more information as it comes.
Thanks to Dragon for the tip and Jake for the translation.