New Pokémon Duel App and 3DS model ported from Japan
Pokémon Comaster – or Pokémon Duel – and the Yellow Pikachu 3DS are releasing in the US and Europe.
Nintendo has once again remembered that they have fans outside of Japan.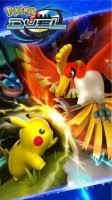 First, the Pokémon Comaster game released for mobile devices in Japan last year has been renamed to Pokémon Duel, and has been released on the iOS App Store and the Google Play store.
This game involves battling with digital figurines on a board, and allows for online battles as well as a single-player quest. Attacking involves a roulette wheel. Figurines obtained are random, and while the game is free-to-play it also includes microtransactions.
We have a trailer for it courtesy of the official Pokémon International YouTube channel. You can check it out below!
Secondly, according to Serebii.net, the New Nintendo 3DS XL Pikachu Yellow Edition (pictured above), which came out in Japan last year, has been confirmed to release to the rest of the world on 24th February for the standard $199.99 US.
What do you think of these releases?
Edited by bobandbill and Z25.