The First Global Mission for Sun and Moon Has Begun!
The first Global Mission for Sun and Moon is live! This one is all about catching Pokémon. Learn about it here!
With the release of Sun and Moon, there is a focus on bringing players together. This is done through the Festival Plaza and Global Missions. In these missions you work together with everyone else in the world to complete a task. The first of these missions is live now!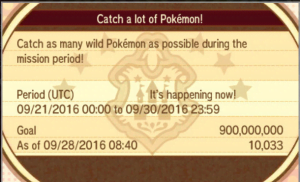 The first mission involves players going out there and catch as many wild Pokémon as you can – the target is 100 million Pokémon. These missions are a lot like the Fun Fest missions from Black and White 2 and can be a great way to have fun with players around the world. The mission runs until December 12th, 23:59 PM UTC.
To participate in this event, you need to interact with the computer within your Festival Plaza castle. From there make sure you get a Game Sync ID and register it to the official Global Link Website (you will need a Trainer Club account to do this). When that is done, you'll be able to join in the fun! As a reward you may receive up to 200 to 2,000 Festival Coins!
So are you going to participate in this mission? Let us know below!
Edited by bobandbill.