Study shows thousands are playing Pokémon GO while driving
San Diego research team uses social media to show how drivers are playing Pokémon GO while driving.
It seems like users are ignoring the warning message that Pokémon GO gives about playing while driving.
Released last Friday, a study conducted by a research team at San Diego University showed that a large number of people are playing Pokémon GO while driving. Using social media as their database, the research team found 62,000 accounts of drivers playing Pokémon GO in a ten-day sample period thanks to tweets being sent out relating to it.
The data was collected by first collecting 350,000 tweets that referenced Pokémon in one way or another. Then, the data set was categorized into groups that included a driver, passenger, or pedestrian playing the game, whether the tweet included a safety message, or if it didn't reference Pokémon GO at all.
In their findings, 18% of the data displayed how drivers were playing the game while driving (including tweets such as "omg I'm catching Pokémon and driving"), as well as another 4% – 13,000 tweets – stating how they were dangerously distracted while playing the game (pedestrian tweets included "almost got hit by a car playing Pokémon GO." Additionally, another 11% of the tweet sample involved a passenger playing the game, however whether that is a distraction for the driver can be disputed.
Here are just some of the examples of tweets from people playing Pokémon GO while driving (note: these are examples outside the study sample).
All my friends r havin babies and I'm just trying to drive slow enough to work so Pokémon go thinks im walking

— abbs (@abbyakin) September 8, 2016
Ok, hands up if you play Pokemon Go and now drive everywhere at 12mph

— CallingAllAstronauts (@CAA_Official) September 15, 2016
me, going on a road trip: honey yes i know how to drive there i got GPS i dont need "directions"
[ pulls out pokemon go ]

— 🚀 gwen 🚀 (@astrobeIt) September 17, 2016
While Pokémon GO is up, a prompt will display on the screen if your speed passes a certain limit while your character is "walking". This will typically display when one is moving too fast while the app is running, such as when in a motor vehicle. The prompt can be bypassed by identifying yourself as a passenger instead of as the driver. However, there is no system in place for a driver to prove that they are a passenger in a car, thus making the prompt easy to bypass. The warning can be seen here: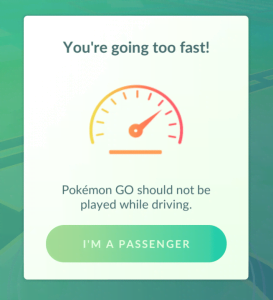 It's also worth noting that these tweets could be made for the sole cause of obtaining likes/retweets. However, it is still a matter for concern as two-thirds of crashes among young drivers is from a distraction, with that rate increasing. There have also been incidents in the past where Pokémon GO was the main cause for the crash.
Should Pokémon GO be a cause for concern when it comes to playing it while driving? Give us your view on the matter through the comment section.
Related links:
Original article
Edited by bobandbill and Charlie Brown.