TCG and VGC World Championships Finalists decided
Who will win the 2016 Pokémon World Championships? We'll find out tomorrow on the final day.
The finalists have been determined for the Trading Card Game (TCG) and Video Game Competition (VGC) for this year's Pokémon World Championships.
TCG
Junior: Riku Ushirosako (JP) VS Shunto Sadahiro (JP)
Senior: Connor Pederson (US) VS Jesper Erikson (DK)
Masters: Shintaro Ito (JP) VS Cody W. (US)
VGC
Junior: Cory Connor (US) VS Shu Harasaki (JP)
Senior: Carson Confer (US) VS Yuki Wata (JP)
Masters: Wolfe Glick (US) VS Jonathan Evans (US)
VGC Masters Summary
The main event is the highest age division of VGC, the Masters Division. Wolfe Glick of the US faces off against fellow countryman Jonathan Evans.
Wolfe Glick beat Markus Stadter (Germany). These two players had nigh identical teams, each having a Kyogre, Hitmontop, Gengar, Raichu, Bronzong and Rayquaza.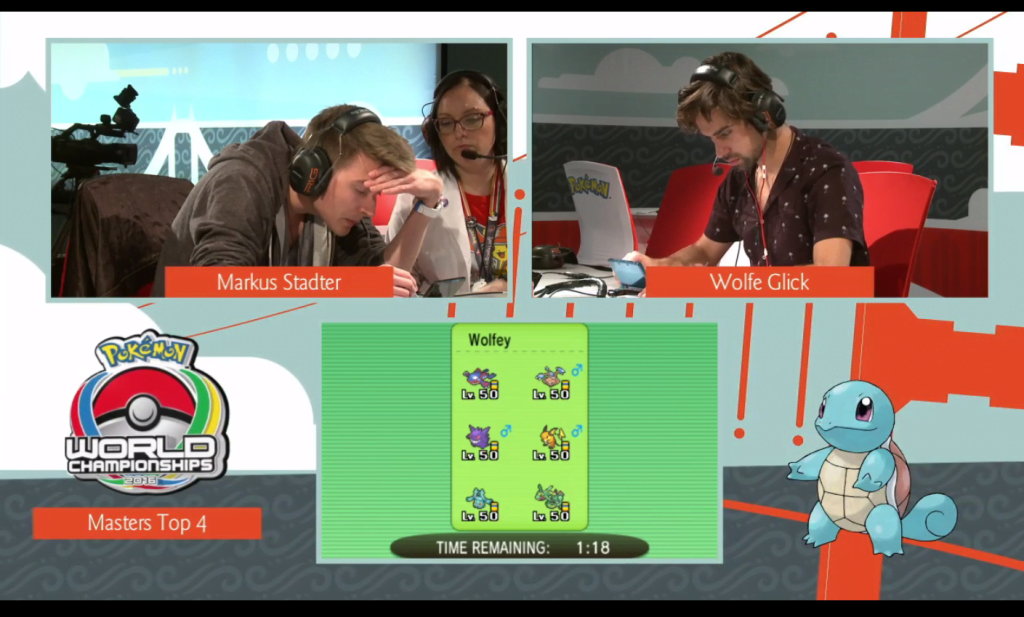 Markus had what appeared to be a possible mis-click turn one round one, using Sludge Bomb on his own Raichu. This quickly lead to a convincing victory for Wolfe, who took the momentum into the second battle. He managed to land the first KO against Markus' Raichu, something he later declared was something he focused on, believing it allowed to give him an edge. This proved successful when he took the second battle and landed the first spot in the finals.
In the second semi-final, Jonathon Evans beat Eduardo Cunha of Portugal in a 2-1 victory. Many fans were annoyed by the Twitch stream dropping out, but some Twitter commentary and alternative streaming (shout-outs to Jay Blake on Twitter and Alex Poole on Periscope respectively!) helped keep some in touch.
Eduardo's team was the last surviving team to feature the Groudon/Xerneas combination in the division, supported by Bronzong, Thunderus, Kangaskhan and Hitmontop. Jonathon meanwhile had both Groudon and Kyogre, supported by Gengar, Bronzong, Talonflame and unusually Manectric.
Jonathon won the first battle after finishing with P-Blades combined with time pressure, but Eduardo managed to claw it back to 1-1 with some cleaver Taunts and a bulky Kangaskhan. However, in the final battle Jonathon's Groudon proved to be the difference. Eduardo's Groundon used Protect against a Hidden Power Water early on, but was unable to maintain its Substitute against a Kyogre who had the rain set up and Jonathon's supporting HP Gengar. Poison from a Sludge Bomb onto Eduardo's Kangaskhan then spelt the end.
Top survives a Fire Punch, drops the Close Combat but then a forfeit from @MeninoJardim. Well done @EzraelVGC – he's n the finals

— Jay Blake (@Rayquayjay) August 21, 2016
You can watch the highlights of the stream below. Make sure to catch the finals tomorrow in our other article which has the Twitch stream embedded, starting at 9:00 AM PDT!
Watch live video from Pokemon on www.twitch.tv
Final part of the second semi-final: