Pokémon GO breaks iOS App Store records
One week into Pokémon GO's release and the game has amassed the highest amount of app downloads on the App Store, Apple confirms.
Apple has confirmed to Jim Dalrymple of The Loop that Pokémon GO has recorded the highest amount of downloads on the iOS App Store in its first week. Remember too that the game was only available in the United States, Australia and New Zealand on that day, and you'd see how phenomenal GO's popularity really is.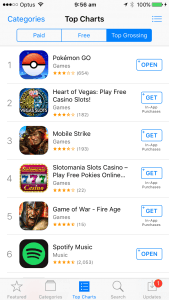 The App Store is full of big-name game series such as the Clash of Clans, Angry Birds and Candy Crush, which have all gained significant traction in the mobile games scene. That GO has outpaced a single game from them is a massive achievement.
Indeed, even looking at the App Store's Top Charts, the game currently stands first in the Free and Top Grossing charts in the App Store overall. Top Grossing is interesting, as since the game offers in-app purchases, you can see that the game is making a lot of money on the App Store from them.
But don't take the word of a single App Store for the iPhone and iPad. Just look around your local city — crowds of people gathering in spots, particularly PokéStops, catching Pokémon. The game has caught the attention of many, striving to conquer Gyms in the name of their team, and catching 'em all. Everyone's going outdoors, getting exercise, and meeting with friends for Pokémon, and it's a positive sign that likely exceeds what the developers were hoping for.
Pokémon GO is available in Australia, New Zealand, the United States, Japan, Canada and twenty-six European countries. If you're in a supported country, you can grab it from the App Store (and boost the records even further) or Google Play right now.
Source: The Loop