Pokémon Sun/Moon news coming on May 10th
The wait is over: our first piece of news will be arriving on May 10th.
Rejoice! Pokémon Sun & Moon news is finally coming on May 10th.
The official Pokémon Sun & Moon Japanese site has updated, saying that the first piece of news for the upcoming games will be released at 21:00 JST on Tuesday May 10th.
For those in other timezones, this is 12:00 UTC, 13:00 BST, 22:00 AEST, 05:00 PDT and 08:00 EST.
The method of delivering this news has not been revealed yet, though we will update this post with any details that emerge.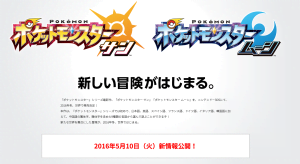 Stay tuned for more news, and swing by PokéCommunity Daily on Tuesday May 10th for all the news as it breaks.